It's hard to believe it's taken me this long to post the San Diego recap, but believe it, I must. The calendar does not lie.
The Kirby Museum had a wonderful time, with Lisa Rigoux-Hoppe in full time booth-volunteer mode, Charles Hatfield setting down daily for signings of his Eisner Award winning Hand Of Fire: The Comics Art of Jack Kirby (published by University Press of Mississippi), Rand Hoppe (your correspondent) alternating between scanning Kirby original art for the OADA and general kibitzing, and Arlen Schumer in seemingly non-stop salesmanship of his "The Auteur Theory of Comics" 16 page, full-color booklet (published by the Kirby Museum)!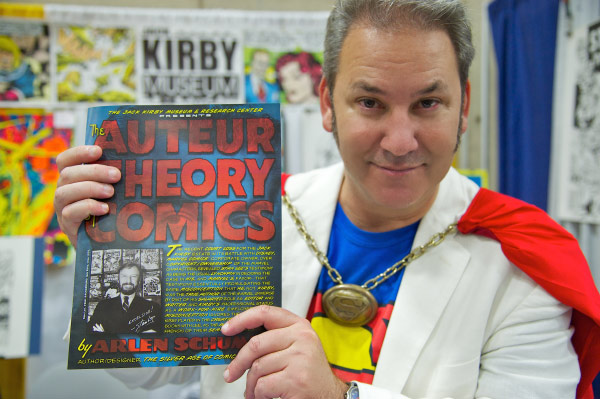 Speaking of Arlen, a limited number of signed, first editions of "The Auteur Theory of Comics" are still available for $25 US ($30 International), with funds designated to our Brick & Mortar Campaign.
If you're in the USA, click here to donate $25 and we'll send you "The Auteur Theory of Comics".
If you're not in the USA, click here to donate $30.
Many thanks to Arlen for his generosity and hard work on behalf of Jack Kirby's legacy and the Kirby Museum.
There were Kirby panels hosted by the Institute for Comics Studies, the first being "The Auteur Theory of Comic Books" by Arlen Schumer, who offered a visual extrava-fantastic presentation followed by comments from John Morrow, Charles Hatfield, Craig Fischer and this writer. While the Museum recorded the event with help of Tom Kraft, the Comics Journal captured it as well. The second Kirby panel was "Jack Kirby, Modernism, and Abstraction" with Dr. Andrei Molotiu and Mark Badger offering their individual presentations. Fascinating, engrossing Kirby material the like of which the Kirby Museum will continue to support and encourage. Thanks to all involved, especially Peter Coogan and the ICS for making it happen.
Comic Arts #7 from The Comics Journal on Vimeo.
Our booth location improved somewhat this year, being diagonally across the aisle from the booth of John Morrow's TwoMorrows Publishing. Some guy was walking around holding a delicious treat that, when John Morrow pointed it out, I found hard to resist.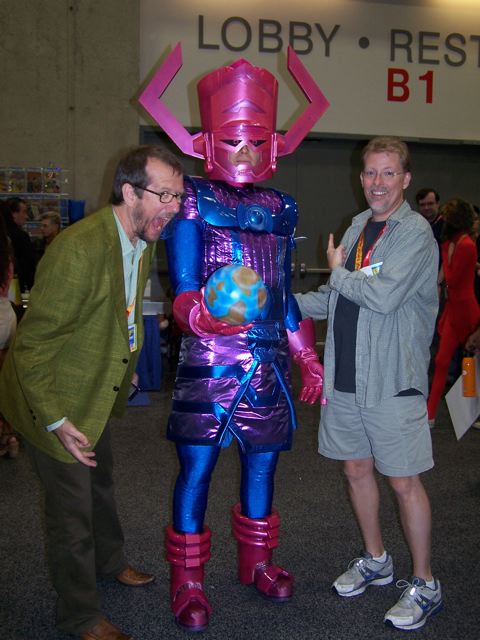 We also had the pleasure of visits from Mark Evanier and Tracy Kirby with her kididdles.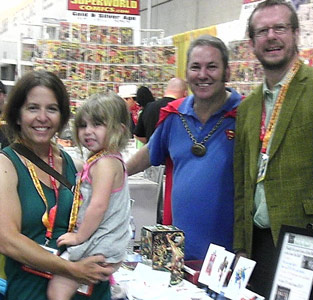 Trustees also confabbed.
And last, but certainly not least, was the very well attended Annual Jack Kirby Tribute panel hosted by Mark Evanier, with guests Stan Goldberg, Charles Hatfield, Paul Dini and Paul Levine.
That's it for now. Thanks to everyone for all your support.