[release]
Walking into Maxwell's at Washington and 11th in Hoboken during these last three months, patrons have been greeted by 50 pieces of striking artwork displayed on walls of russet brick. Brightly colored images of fantastic gods, dinosaurs, heroes, and villains fill the space, making one wonder what cryptic theme connects them all. The answer, not surprisingly, is that the 34 artists from such varied locations as Hoboken, Maine, California, and the UK, are paying tribute to the hyper-imaginative and influential comic-book creator, Jack Kirby.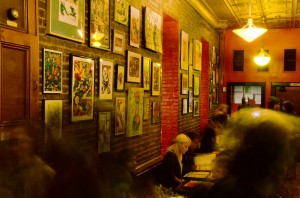 From the dawn of comic books in the early 1940s, through his final years, Jack Kirby created and co-created some of the most enduring characters and stories in comics (Captain America, Fantastic Four, Silver Surfer, X-Men, Thor, Hulk, Avengers, Darkseid among hundreds of others). In addition to revolutionizing such comic book genres as crime, war and superheroes, Kirby also co-invented romance comics with his partner Joe Simon. Kirby's 1960s work with Marvel Comics' Stan Lee (who dubbed Kirby "King") may be his best-known, considering the movies that have recently been made based on their work. But another Kirby legacy is his almost single-handed definition of the expressive visual language of comic books, with his dynamic page layouts portraying exaggerated anatomy, heartfelt emotion and explosive movement.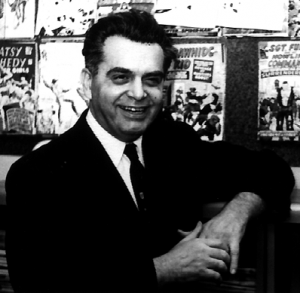 KIRBY ENTHUSIASM has been on display since the mid-October weekend of the New York Comic Con at Manhattan's Javits Center. The well-attended opening featured a Kirby-themed bill of musical acts headlined by Weep, which is led by Doc Hammer of the cult-favorite cartoon show, The Venture Brothers. All of the musical acts donated a portion of their ticket sales to the Kirby Museum. The visual artists have pledged to support the Museum with their art sales, as well.
"This was the first exhibit of its kind that the Kirby Museum has mounted," said Randolph Hoppe, a cartoonist, graphic artist and communications professional who is not only a co-founder of the Kirby Museum, but also a longtime Hoboken resident and Maxwell's patron. "I've participated in other group shows at Maxwell's, and I hoped that combining a Jack Kirby-tribute art opening with a Kirby-tribute music bill during the New York Comic Con would be a winner. The bands were incredible, and as you can still see, the art is wonderful, too."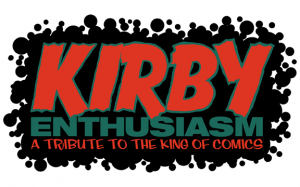 Karl Heitmueller, a cartoonist and writer who co-curated the show with Hoppe, is Maxwell's house artist, as well as a bartender. "In addition to the nightly original musical acts that co-owner Todd Abramson books in the back room," Karl noted, "Maxwell's regularly showcases visual artists on the walls, in the front bar and restaurant. Kirby Enthusiasm may be the most visually dynamic group-show we've displayed," he added, "which is only fitting, considering the subject. Jack Kirby is the King, after all."
So, to celebrate this feast for the eyes, and to garner one more blast of support for the artists and the Kirby Museum, Maxwell's is hosting a closing event on Monday, 30 January, starting at 7:00 p.m., with FREE domestic drafts and house wines served from 7:00-8:00 p.m. Artwork may be sold right off the walls! Mark Frauenfelder, co-founder of blog boing boing, contributed a painting, "Flower, Daughter of Goom." In addition to pledging a portion of the sale of the painting, Frauenfelder has also authorized the Museum to offer a limited edition of prints of the bold, sexy image of one of Kirby's characters. The Museum has prints available from other participating artists, such as Arlen Schumer, Steven Brower, Ryan Inzana, Karl Heitmueller, R. Sikoryak and Cheese Hasselberger.
New Kirby Museum memberships will be welcomed – posters, prints, portfolios, t-shirts, stickers and more are all offered in return for donations and/or membership dues. Membership dues support the ongoing operations of the 501(c)(3) Museum, convention appearances, its online presence, education programs, publishing efforts, and more. The Museum is also actively building a collection of archival-quality scans of Jack Kirby's original art. Donations outside of membership dues are currently being marked for the Museum's Brick and Mortar campaign. The Kirby Museum is now engaged in a campaign to raise $30,000 to open a pop-up Museum on New York City's Lower East Side, near where Jack Kirby lived his early life.
"Jack Kirby is one of the most influential creative forces of the last half of the 20th century, and I'm thrilled to have participated in Kirby Enthusiasm with Maxwell's and the Kirby Museum," said painter and cartoonist James Romberger. Having watercolors in collections of organizations such as the Metropolitan Museum of Art, as well as producing graphic novels such as "Seven Miles a Second" (with David Wojnarowicz and Marguerite Van Cook), Romberger contributed a large print of an abstract, one-color piece to the show. "The influence of Kirby's imagination, talent and creativity is deep, far and wide," Romberger added.
[/release]