As 2011 draws to a close, the Kirby Museum wishes Happy Holidays to all of our patrons and supporters.
And as you finish shopping and wrap your presents, we hope you'll consider giving one more gift – a donation to our Brick & Mortar Fund.
We know this can be a lot to ask for in any year, and especially so when times are tough. But we're asking for a very good reason – to make the Kirby Museum even better in 2012.
Please let me explain . . .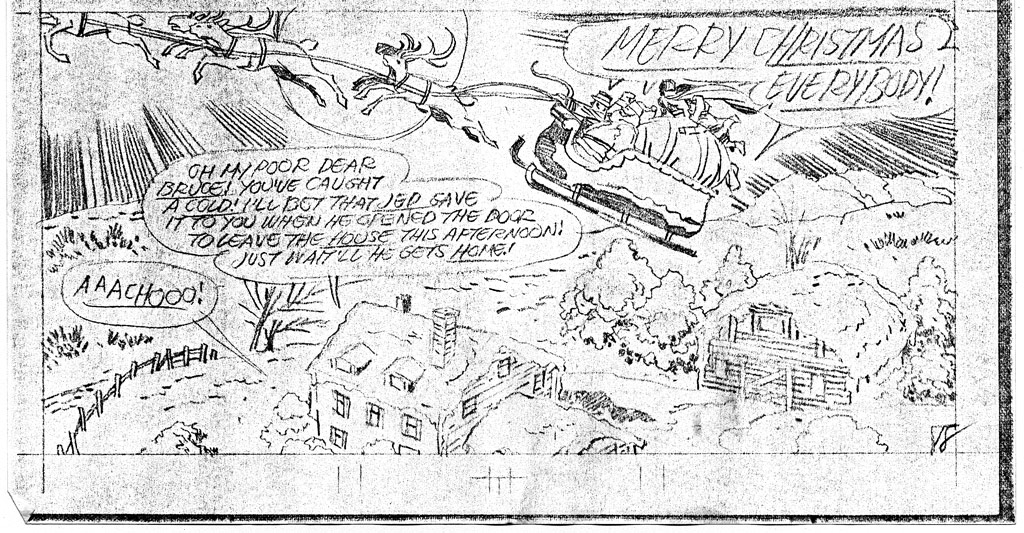 2011 was a great year for the Kirby Museum. We are very excited about our plans for the Pop-Up Kirby Museum on New York City's Lower East Side! We have garnered a lot of support and hope to meet our fund-raising goal in the coming months. Having an actual brick-and-mortar Kirby Museum for a little while in New York City will help bring Jack Kirby the attention he deserves. (We even have some other exhibit projects in their infancy.) We've set up a Brick & Mortar Fund to help us attain this incredible goal. All revenue we receive other than membership dues are going into this fund.
If you become a Museum member, your dues will go towards our appearances at conventions, our archival projects and publishing efforts:
+ We're also happy to have attended comic book conventions and festivals this past year. Being able to present the Museum's efforts and engage in membership outreach, as we did in Calgary, San Diego, New York and Brooklyn this year, is only possible through the support of Museum members. We hope that we'll be able to do so at even more such gatherings in 2012!
+ The Original Art Digital Archive, where we scan Kirby original art and maintain a digital archive, has grown to include almost 1800 pieces. We are also developing a project involving Jack's pencil art photocopies.
+ There are also some publishing projects in the works – we hope we can announce them soon. This includes exciting limited edition art prints and books.
Your tax-deductible, end-of-year Brick & Mortar Fund contribution or membership dues will be vital to growing the Kirby Museum as we move towards Kirby's Centenary! We're aiming to make 2017 a celebration of Kirby the likes that have never been done before.
Thank you for your support of Jack Kirby Museum & Research Center, and I look forward to the New Year.
Sincerely,
Rand Hoppe
Remember, donations to the Kirby Museum are tax deductible. There are two ways you can still be eligible for the 2011 tax year:
One is to click the "donate" button to the right, or the "Membership" menu in the upper right.
OR – You can mail a check to us that is dated on or before December 31. Please send it to:
Jack Kirby Museum
P.O. Box 5236
Hoboken, NJ 07030
Happy Holidays – and thank you!