New York Comic Con and the Kirby Enthusiasm opening a few weeks ago were great fun. Successes, even! I, herewith, offer many thanks to many of you!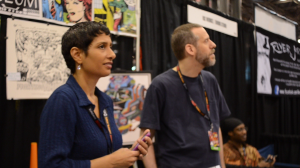 Thanks to Mike Cecchini (the Museum's Volunteer Assistant Director), Lisa Rigoux-Hoppe and Richard Bensam, the NYCC booth was well manned, with many Kirby fans stopping by. Some to just chat, others to donate to our Brick & Mortar Fund and receiving stickers, postcards and books – with most enjoying the process of feeding our Mother Box with the subsequent "Ping! Ping! Ping!" – and others to become members of the Museum and receiving posters, prints or portfolios. Tom Kraft was scanning Kirby art for our OADA at Bechara Maalouf's Nostalgic Investments booth. John Morrow/TwoMorrows was nearby around the corner, as was Andrew Cooke with the Will Eisner documentary and Cliff Galbraith/Rat Bastard. We thank you all, and for those of you for whom we have addresses, be on the lookout for some email. This NYCC may very well have been the Kirby Museum's best convention to date. I know none of you were wondering, but, yes, the vuvuzela was used, and to good advantage.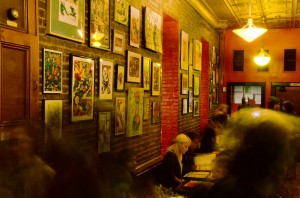 Thanks to Karl Heitmueller, Jr. and Maxwell's, the Kirby Enthusiasm opening Saturday evening was a blast. Kirby people took over the place for a while, with artists and friends enjoying the company, the art, the food, and the drink. Thanks to the bands, The Boom Tubes, WJ & The Sweet Sacrifice and Weep, who rocked out in the back room later on. The art will be up until early January, so be sure to stop by Maxwell's if you're in the NYC area during that time. I'll post more about that in another entry soon.
Thanks to the support of our members, we also recorded some video at NYCC and Maxwell's – interviews were shot with Charles Kochman, Mike Gartland, R. Sikoryak, Tom Morehouse, Frank Espinosa, Adam McGovern, as well as some of those folks mentioned above. We also recorded the Joe Simon and the Auteur Theory panels. The footage is currently being analyzed and edited, and thanks to the interview subjects, is available to be used for our documentary, fund raising and other purposes. Many, many thanks to Ben Tudhope, Andrew Cooke and Malcolm Alston.
All images in this post from work by Ben Tudhope.