We'd hoped to have an upgrade to our web site all ready for a big virtual ribbon-cutting ceremony today, Jack Kirby's 91st birthday, but the darn t-s wouldn't cross and i-s wouldn't dot. Best we can do is announce a few things.
Kirby Documentary
As Rand announced at the Jack Kirby Tribute panel at Comic Con International: San Diego, the Kirby Museum is starting fund raising and pre-production on its feature-length Jack Kirby documentary with Jon B. Cooke and Andrew D. Cooke. You may know the Cooke brothers by their work as Montilla Pictures on the wonderful "Will Eisner: Portrait of a Sequential Artist", and Jon from his exceptional Comic Book Artist magazine. As a non-profit 501(c)(3) corporation, the Museum is going to be funding the production through fund raising. In fact, we are seeding the project with funds from our members' Annual Dues. No doubt, this documentary will be a powerful tool in getting the word out about Kirby and his work, as well as a valuable resource to aid in funding of further Museum projects. Please consider lending your support to this project.
Retrospective
Also through the generosity of our members, and mentioned at the CCI:SD Kirby Tribute panel, the Museum has started a small original art acquisition program. These pieces will be the foundation of our Traveling Retrospective, as well as being helpful resources when we are queried by our peer educational, cultural and literary organizations looking for Kirby assets.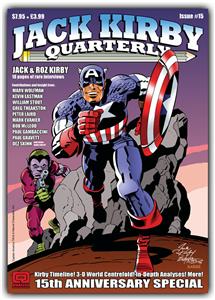 Kirby Kinetics and Web Site
Once we've finished moving the core of our web site over to the open-source Drupal Content Management System, we're going to be premiering a new blog titled "Kirby Kinetics", written by Norris Burroughs, which will focus on analyses Kirby's art. Norris was inspired by Greg Theakston's article "That Old Jack Magic" in Amazing Heroes 100 from 1986, which Greg has given permission to post, as well.
Also in the queue are an article on the Boys Brotherhood Republic by Stan Taylor, videos from San Diego and audio files from Jack Kirby Quarterly's Chrissie Harper.
Special thanks
The Museum would like to thank Dez Skinn and Chrissie Harper, publisher and editor, respectively, of Jack Kirby Quarterly 15, for committing to donate a percentage of their revenue to the Museum.
A BIG Thanks again to Trustee John Morrow for the support at San Diego, and the percentage of Kirby Five-Oh! and Kirby Checklist – Gold Edition.