We couldn't be more pleased to debut on that day. Thanks for stopping by. We've got some interesting presentations, and lots more in the works.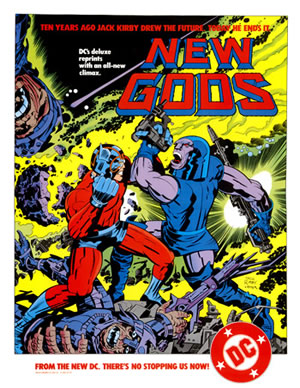 Be sure to try out the comicbook database. Based on the Jack Kirby Checklist, the comicbook database is our first step towards building an complete, online Kirby "Catalogue Raisonné. Programmer Greg Gatlin, who runs AtlasTales.com, has done a great job. The Museum has ambitious plans for the database – what is available now is but a seed which will grow and grow
Anyone who spent time with Jack Kirby reported that he enjoyed telling stories about his World War 2 experiences. Glenn Fleming, a guest to the Kirby home in 1991, recorded Jack describing one particular story that he used in "Mile-A-Minute Jones", published in Our Fighting Forces #159 by DC Comics in 1975. A brief video clip of Jack interspersed with panels from the comic book was prepared by David Schwartz and is presented here.
Although Jack Kirby is currently more known for his work with Stan Lee at Marvel Comics, he had a long, successful partnership with Joe Simon – Captain America, Boy Commandos. Newsboy Legion and Sandman were big hits in the early 1940s. After World War 2, however, Simon & Kirby produced some interesting, non-action-adventure work before tapping into the romance and true crime genres. Presented for your entertainment and edification is Alligator Tetanus 1947. They produced some action-adventure, as well.
One of the Kirby highlights of 2004 was TwoMorrows Publishing's re-working and updating of 1972's Kirby Unleashed. Mark Evanier and Steve Sherman have been kind enough to allow us to use their amended Kirby biography on this site. Newly illustrated with photos, too!
The Kirby Museum's long-term plans include a major traveling retrospective in 2007, a documentary, and more. We can't do this without your help. Please consider becoming a member of the Museum to foster the development of these programs.