The Kirby Museum will be at its own booth, #1504, this year!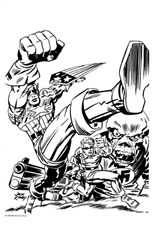 We'll be scanning, as usual, so consider this yet another call to all Comic-Con attendees – Bring Your Kirby Original Art! There are almost 1400 pages of art scanned at archival quality in the Museum's Original Art Digital Archive, and it just keeps growing.
Of course, we're looking forward to meeting all the Kirby fans at the con. We'll have a limited number of prints, portfolios and posters at the booth to offer as gifts to new and renewing members. The Museum's Mother Box will be there, as well, to take your donations for our stickers and postcards.
The annual Jack Kirby Tribute Panel is Sunday, 24 July at 10:00am in Room 5ABC. Moderator Mark Evanier will be welcoming Walter Simonson, Erik Larsen, Mike Royer, and Richard Kyle this year. TwoMorrows publisher John Morrow, Jack Kirby Museum curator Rand Hoppe and What If Kirby's Tom Kraft will be there – we hope you will be there, too!