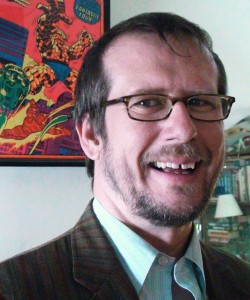 Occupation: Graphic & Media Artist, Communications Professional, Cartoonist
Education: Bachelor of Liberal Arts with a Fine Art concentration from Colgate University (Photography and Experimental Animation)
Offices Held: Technical Writer/Internal Auditor/Project Manager – Standard Chartered Bank; Partner – Lemon Custard Comics; Webmaster – TwoMorrows Publications; Webmaster – Heisman Trophy; Technology Consultant – All Saints Episcopal Day School; Sole Proprietor – R&Y Communications; Communications Lead – Talus Networks; Senior Communications Associate – Tranquility49 LLC.
Community Service: Board of Directors, Hoboken Homeless Shelter. Volunteer Operator, Hoboken Freecycle.
Published Art or Writings: blogger, curator, archivist, KirbyMuseum.org. "Mondo Kirby" Jack Kirby Interview with Andrew Mayer, Jack Kirby Collector. "Cartoons & Bar Tunes", "Agents of P.O.O.C.", "What Exit?", "Kirby Enthusiasm", Group Art Shows, Maxwell's, Hoboken, NJ. "Save The Princess!" & "View", Lemon Custard Comics, Caliber Comics.
Why Jack?
Jack Kirby's impact on American culture is all around us. Yet he is unknown to most, especially in proportion to his influence. My hope in co-founding the Jack Kirby Museum is to create a thriving organization that will foster the interpretation, sharing, exhibition, study and preservation of Kirby's work for generations to come.
Phone: +1.201.204.0532
Email: rhoppe@kirbymuseum.org