From the "If You Could" project of London design studio HudsonBec: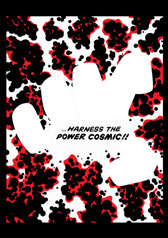 London-based illustrator Kam is one of the most successfully diverse graphic artists working today. A constant re-invention of his aesthetic means his output is consistently exciting, cementing himself as a leading figure in the industry for many years to come. A list of collaborations and clients as long as your arm include The Chemical Brothers, Gnarls Barkley, Burberry, Adidas, the London Design Museum and Royal Mail.
The November print expires in 22 days from posting of this message
Kam is generously donating a percentage of his sales to the Jack Kirby Museum & Research Center.