What is the Collections Website?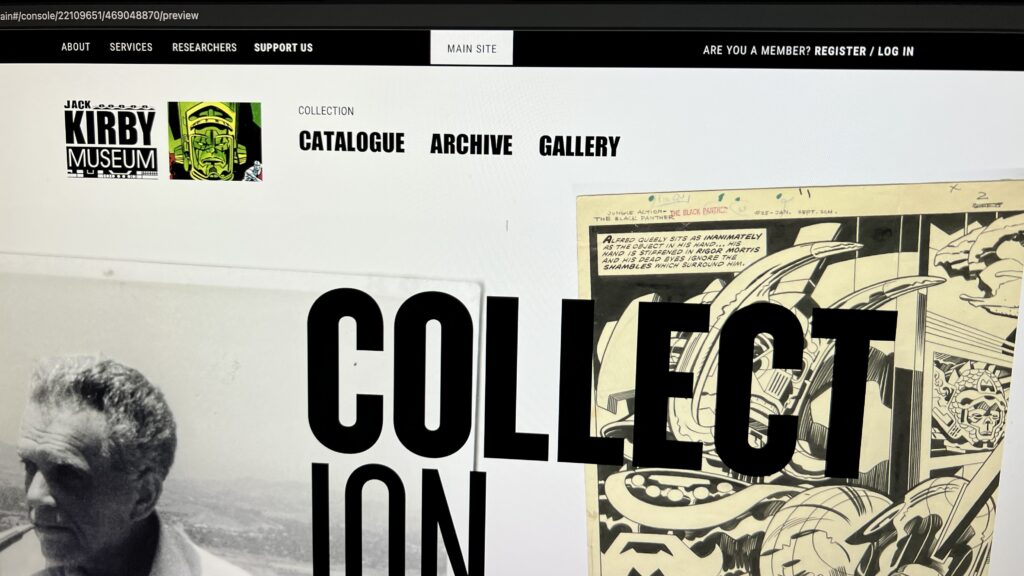 Design for the new Kirby Museum Collections website is underway. But we need funds to make it an online reality for all to enjoy. We have thousands images and catalog data in our Catalogue Raisonné. Part of our mission is to encourage the study of Jack Kirby. We want to have this new site available for historians, researchers, the media and every Kirby enthusiast around the world. Please help us and donate what you can on our fundraising page: kirbym.us/e/coll

What will the site include?
Catalogue Raisonné
The Catalogue will be a searchable database of all the works of Jack Kirby. It will start with is work in comic books, then expand over time to include comic strips and more.
The Kirby Archive
Since 2006 the Museum has scanned and cataloged hundreds of pages of original art, photocopies, documents and other historical objects. This archive preserves Jack Kirby's wonderful works in a lasting archive of high resolution scans to standards used by museums and libraries around the world. The website will feature a searchable listing of all the art and objects we have scanned with medium resolution images of some of the pieces. This section to will expand over time. We will start with original art then add photocopies and more.
The Gallery
A selection of some of the historical significant pages will be featured in the gallery. Items will be searchable and cross referenced to the catalogue. These images will be hi-resolution with the ability to zoom into the smallest details.
What is the Kirby Digital Archive?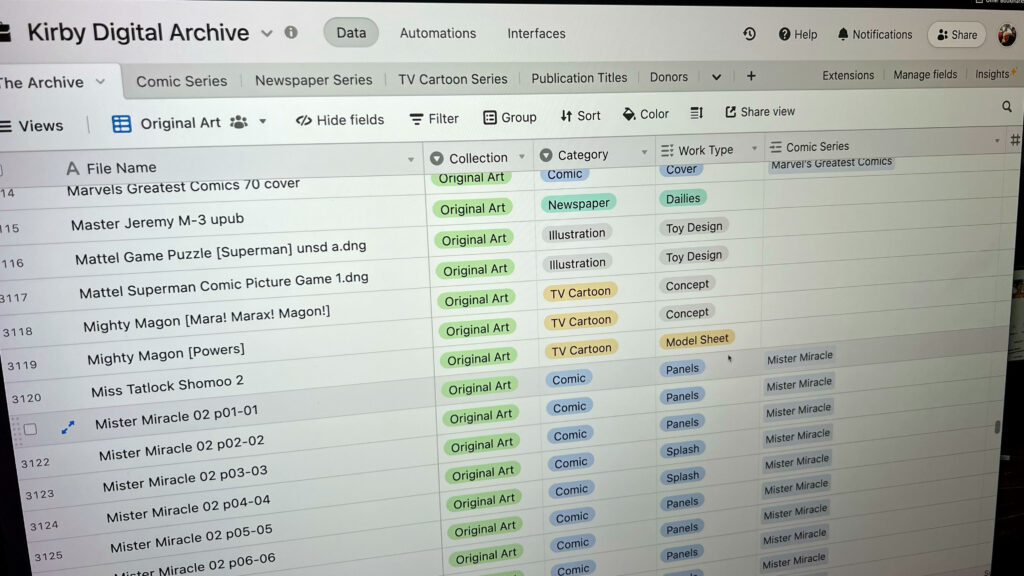 In 2006, The Jack Kirby Museum started its Kirby Digital Archive (KDA) with the ambitious goal of archiving every available piece of Jack Kirby's art. The KDA preserves Jack Kirby's wonderful works in a lasting archive of high resolution scans to standards used by museums and libraries around the world. Not only does this archive provide amazing images for the Jack Kirby Museum website, but it also helps scholars and historians in their research.
Why is archiving original art important?
The KDA project's main purpose is to create a lasting record of Kirby's art for everyone to study and enjoy – now and long into the future. With the passage of time, any original art not in museums or galleries runs the risk of deteriorating or being destroyed in natural and man-made disasters. The Kirby Museum is dedicated to keeping Kirby's legacy preserved by building this digital archive. Approximate breakdown figures as of February 2020
5,000


Comic Book
Pages

110


Comic
Strips

7,700


Pencil
Photocopies

500


Commission
Sketches
The efforts of the KDA are ongoing. Rand Hoppe, curator of the Jack Kirby Museum and President, Tom Kraft, creator of What if Kirby, attend many U.S. comic conventions with wide-format Epson 12000XL professional scanners to get the highest quality scans. In addition, both travel to the homes and offices of private collectors with these scanners to archive their Kirby art collections.
Current total archive size : approximately 13,000 artifacts totaling over 5 Terabits
Have your Kirby art archived!
Please contact Rand Hoppe and Tom Kraft of the Jack Kirby Museum at info@kirbymuseum.org to have your art archived.
Owners who allow scans their original art to be included in the Kirby Digital Archive have the option to have a courtesy credit or to remain anonymous and can specify whether only scholars may view the scans, under Museum control and whether they can or can not be published anywhere.
Options for having your art archived
1. Upcoming conventions
We bring our scanners onsite to scan and archive your art at many of the larger comic conventions through out the United States where you can bring your Kirby art. Bechara Maalouf of Nostalgic Investments generously provides a table and space for us to scan and archive art.
2. Your location
We can scan your art or arrange a visit to have your art scanned at your location. Museum Trustees, Rand Hoppe is located near New York City and Tom Kraft near Boston. We both have professional scanners. You can arrange to have us travel to your home and scan your art at your location. Many collectors do not want their art to leave their homes for insurance and security purposes.
In addition, we plan a yearly one-week visit to the Los Angeles area to organize several visits. We post this on our facebook page but if your are in the LA area, contact us so we can add you to our visits.
3. Your Scanner
If you have access to a wide format scanner, you can also scan your art yourself. Here are the specifications for providing archival quality scans:
100%
1200 DPI or 600 DPI
RBG (24 bit color)
Scan front and back
Try to keep the art as straight as possible
No unsharp masking or auto adjust settings
Include space in between edges of paper and scanned image (don't crop the scan to the edge of the paper, let us see the actual paper edge and some non-paper space)
If available, save in Digital Negative (DNG) format or as TIFF with LZW compression. We use Hamrick Software's VueScan software.
If you want to stitch the pieces together, go ahead, but send the pieces (halves) as well as the result of your stitching. We prefer to archive "raw" scans, before any rotation or adjustment of any kind. File size varies between 150-210 MB each. We prefer you use our Hightail dropbox, but feel free to use services such as Dropbox, WeTransfer or we can arrange for an FTP file transfer, upon request. Please contact Rand Hoppe or Tom Kraft.
Other scans and photos welcome!
That's right! Even though we're building an amazing scholarly reference with scans at archival quality, the Kirby Museum is also interested in compiling scans or photos of Kirby original art at any level of quality. See the information above about how to send them to us.
Thanks to Contributors!
We offer our heartfelt thanks to those who have contributed to or otherwise helped the Kirby Digital Archive: