The Museum's website software just had to be updated. The gallery application that we were using to display images was not keeping up with the times. Rather than tinker with the setup we had, I made the call to move everything over to an installation of WordPress. The Museum's blogs were already using WordPress, so what the hey?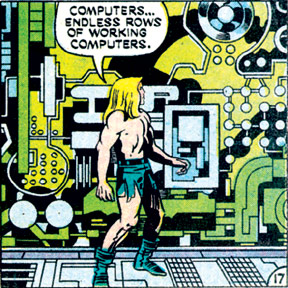 Now, the re-working of the site has brought about some other changes, as well. Our making some image galleries exclusively available to Museum members is going to be put on temporary hold. We'll have an announcement regarding that kind of Membership perk pretty soon. In the meantime, you are checking out Museum Trustee Tom Kraft's What If Kirby site, aren't you?
The other aspect that's been changed is that I've moved all the posts from this "Kirby Museum blog" that relate to Kirby and his work over to the Kirby Effect. After all, the Kirby Effect is the journal of the Museum, and that's where any new discoveries or articles about Kirby should be posted. We hope to have the work of more guest writers on the Effect. If you're interested in helping with the Kirby Effect in any way, please contact me. In the meantime, head on over there, wander around, use the search function, or try Google.
So what's left here? Well, this is the news blog about the Museum itself. I'll continue to announce convention appearances, membership news, fundraising information, talks and presentations – events related to the non-profit educational organization – here.
The new version of the website is not nearly complete, so if you come back and it looks different, you'll know I've been working on it.
Thanks for all of your support!