The Comics Studies Conference at NYCC is sponsoring a panel "The Auteur Theory of Comics." Pop culture historian Arlen Schumer and Kirby Museum director Randolph Hoppe will be joined by John Morrow of TwoMorrows Publishing, J. David Spurlock of Vanguard Productions, scholar Michael Bonesteel (The School of the Art Institute of Chicago) and possibly others on Saturday October 15th, 12 noon, in room 1B03 of the Jacob Javits Center to discuss the role of the auteur in comics.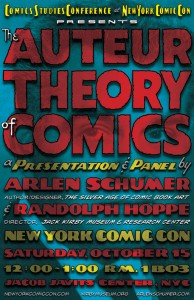 In her recent decision in favor of Disney/Marvel vs. Jack Kirby's family, Judge Colleen McMahon stated that its basis was strictly a legal one; her introduction mentioned that fairness had nothing to do with it, it was all about the business arrangement between Martin Goodman and Jack Kirby. Putting legalities and business agreements aside, then, it's fair to look more closely at the creative work that Jack Kirby, or any comic book cartoonist, has produced using the auteur theory as a guide. What skills are brought to bear in producing a comic story? Who controls the presentation of a piece of visual storytelling?
The panel will start with a presentation then move into discussion among the panelists guided by CSC's Peter Coogan.