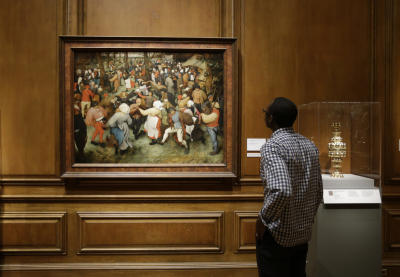 I got a bunch of emails from people when I mentioned Detroit considering selling some of the "peoples" (supposedly our, the "public's") artwork recently. Here are some updates:
Detroit Institute Of Arts, Zoo Safe For Now, But Could They Be Sold Off In Bankruptcy?
DETROIT — When Johnathan Shearrod gazes at Van Gogh's "Self Portrait," Bruegel the Elder's "Wedding Dance" or any of the other treasures at the Detroit Institute of Arts, he can't help but fear for their future.

If Detroit falls into bankruptcy, those masterpieces and other prized artworks could go on the auction block to help satisfy the city's staggering debts. Though the auctions would raise much-needed cash, they would also strip the city of its cultural riches, including paintings by Rivera, Renoir and Matisse, and maybe even zoo animals and historic automobiles.
Detroit bankruptcy could force museums to auction off cultural treasures to help pay city debt
If he doesn't get the concessions he seeks, Orr could move Detroit into a Chapter 9 bankruptcy. That would make it the largest U.S. city to do so.

Should the city enter bankruptcy, everything, including the potential sale of artwork, "is probably on the table," said Ben Feder, a bankruptcy attorney with New York-based Kelley Drye & Warren.

But "it would be the choice of the city to go that route. Without the consent of the city of Detroit, probably nothing" could be sold, Feder said.

Selling or privatizing other Detroit assets, like its electric and water departments, makes more sense because they would bring in a steady flow of revenue, he added.

The sale of a painting brings in a one-time sum. The museum won't put a price on any painting, but it's easy to imagine the work of famous artists fetching tens of millions of dollars.

Van Gogh's "Portrait du Dr. Gachet" sold for more than $80 million at auction in 1990. A Henri Matisse bronze nude sold three years ago for more than $48 million.
This is how it goes down, the corporations and bankers destroy the middle class then they divvy up all the "peoples" treasures in our museums and use artwork as their new fiat currency amongst themselves. This is how those guys operate, they take our savings, our homes, then they fight over old Matisse paintings. It's like watching the ultimate Greek tragedy taking place live. I guess future generations will call this "American tragedy" unless we can figure out some way to change course.