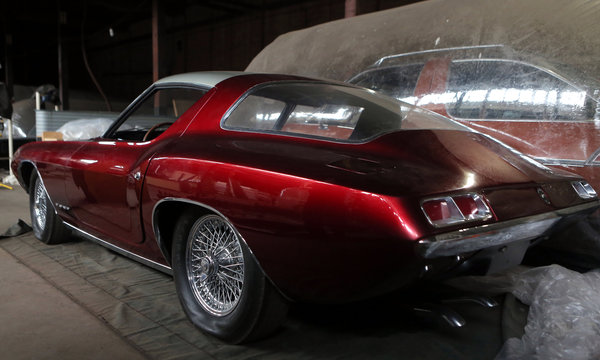 Here's another recent article on Detroit (below my comment).
Anxiety in Detroit Over a Prized Car Trove
I'm not a big car guy, but the thing to take note of is the precedent this could set. You may think I'm exaggerating, but the way things are going, that Facebook kid Zuckerberg could end up owning something like the Lincoln memorial one day, if he wants it. That's where we're headed if a tiny handful of people end up owning all of our resources. And as you see, it's happening right before our eyes (by the way, how shocking is it that the corporate-run New York Times actually reported on a real news story. I guess when one of America's greatest cities in our history is descending into the stone age, they have to have somebody on staff mention that). Gee, I hope nobody in the Government gave the reporter the Detroit story, they both could end up in prison for treason.
DETROIT — As this debt-ridden city lurches toward a possible bankruptcy filing, residents and workers have been locked in a grim faceoff with creditors over how to preserve what remains of their services and benefits.

Contributing to the municipal anxiety is the possibility that some of the city's cultural treasures could be sold off, including masterpieces in the Detroit Institute of Arts and the Belle Isle park in the Detroit River.

But there is another Detroit family jewel in question that is largely unknown outside the automobile world and to some people even more treasured — a collection of 62 lovingly maintained classic cars donated to the city since the 1950s by civic-minded families seeking to preserve the Motor in Motor City.

Most of the cars are stored under protective plastic bubbles in a World War II-era riverfront warehouse on the grounds of Fort Wayne, while others are on display at the Detroit Historical Museum or on loan to exhibits around the country.

Just as art patrons are resisting selling van Goghs and Matisses to satisfy Detroit's debt, car lovers are pushing back at the possibility of losing what they regard as the city's historic industrial heart and soul — including a Cadillac Osceola that dates to 1905, and a vintage Ford Mustang worth an estimated $2 million.

"The cars stand for us, the expression of the thousands of people working hard to produce the birthright of America," said Jerry Herron, a Detroit historian and dean of the Irvin D. Reid Honors College at Wayne State University. "It would be a sad day for Detroit and for America."
Just the fact that this conversation is taking place is a sad day for America…