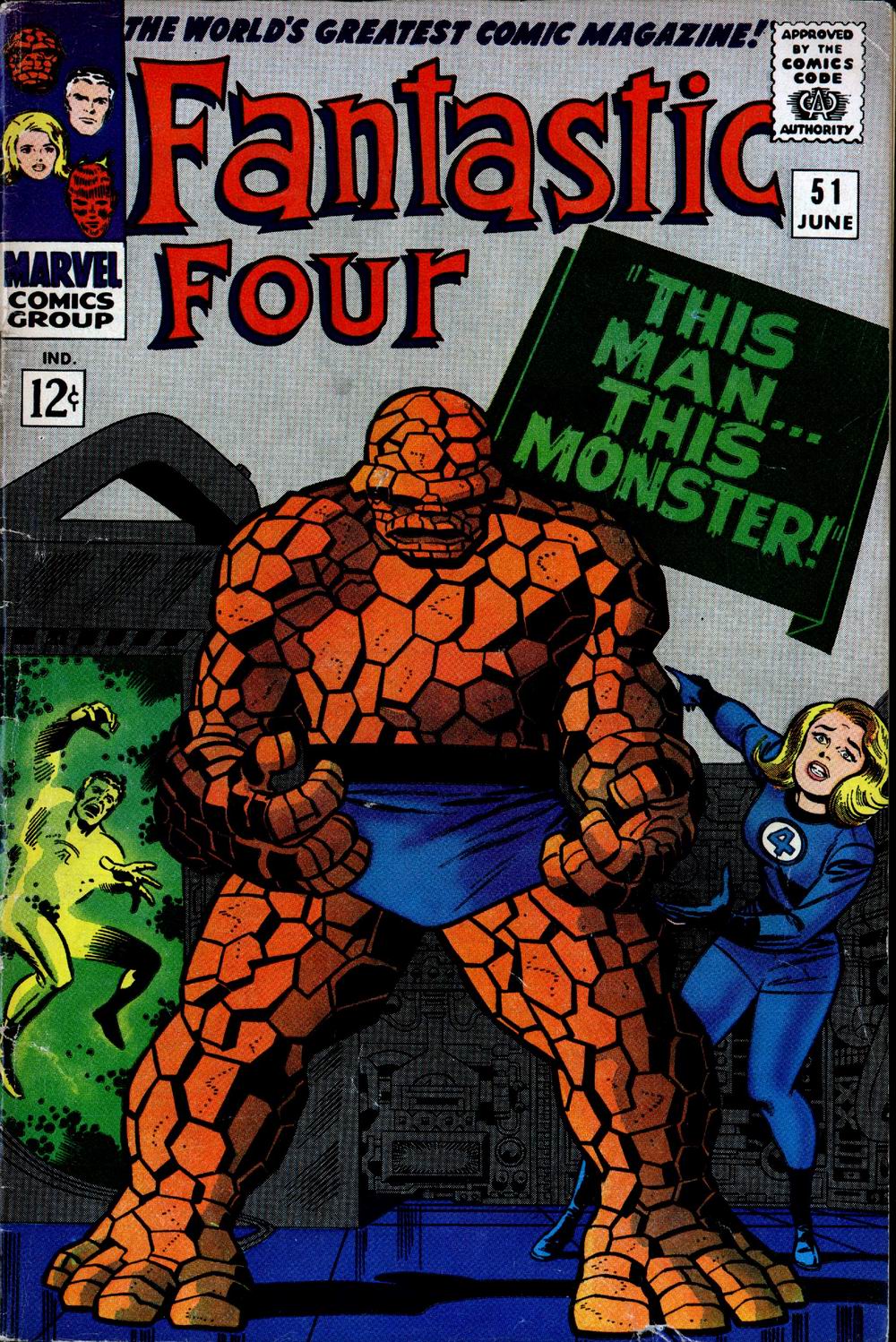 FF # 51 (Jun 1966). Many people consider this the best single issue out of Kirby's entire FF run. It is a pretty remarkable little story. Classic Kirby contraptions; sub-space/the negative zone; a bad guy undergoing a life changing psychological transformation, and making the ultimate sacrifice. Plus you have the great character interactions — the fight between Reed and Ben, Sue almost losing her husband while she stands by helplessly, somehow Jack even manages to squeeze in the Torch at college meeting Wyatt Wingfoot for the first time (a character I'm sure Stan Lee would claim to have created alone if you asked him because he decided to invent the first native American superhero). We even have a great Kirby collage thrown in.
One thing is for sure, after the Galactus Trilogy to come up with such a simple 20-page comic book masterpiece — you gotta be impressed with that Kirby guy. At this point he was in his mid-40s and there's no doubt that he was at the top of his game — in 1966 Jack Kirby had to be unarguably by far the best writer/artist in comics (although as we've discussed at length here, Stan Lee refused to acknowledge Jack's story contributions by giving Jack a writer credit on the books, or a writer paycheck).
Sinnott once again does a tremendous job on this story — Look at that page 9 splash for example, every single line is inked to perfection. One of the reasons Jack's machinery in FF — his depiction of technology (what many call Kirby Tech) — is so remarkable is because of Joe's technical precision embellishing Jacks technical contraptions. The best engineer or technical illustrator could not have done a better job. And Joe's level of quality is just as high every single issue of this series (and to this day, Joe still maintains the highest level of craftsmanship).
Here's just a few iconic pages from this story. These scans are from the published book.