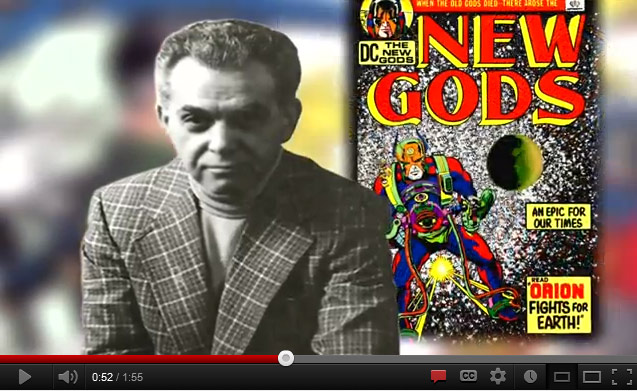 Here's an  email I received yesterday (below). Click on the image (above) to see the YouTube clip. I think the filmmakers did a nice job on this short video. I'm glad to finally see a piece where Jack's important influence on the last decade of Hollywood blockbusters is being acknowledged. Don't think we'll be seeing Marvel putting anything like this out there anytime soon.
From: Edwin Duterte <Edwin@TheViralPublicity.com>
To: robsteibel@yahoo.com
Sent: Tuesday, August 28, 2012 11:45 AM
Subject: Our tribute to Jack Kirby
We appreciate the works of Jack Kirby.  In honor of him, we are going to publicly honor his today at the steps in front of the Grauman's Chinese Theater today.  Here is our press release. Thanks
Hundreds Demand RNC to Support National Jack Kirby Day

Los Angeles, CA, August 27, 2012:  On Tuesday August 28, 2012, hundreds of comic book stores as well as thousands of comic book creators, artists and fans from across the nation will support "The Hero Initiative", which helps comic book creators in times of financial or medical distress.  Local indie web TV creators will raise Hollywood  awareness in front of Grauman's Chinese Theater from 10:45 am to 11:15 am Tuesday August 28th by assembling dozens of filmmakers, TV producers and actors to honor comic book trailblazer Jack Kirby, who co-created many of the most iconic superhero characters including Captain America, Thor, Fantastic Four, The Hulk, and Avengers.   These supporters, many dressed in characters Jack Kirby created, will organize a "Tribute Award" to honor Mr. Kirby's influence to the comic book culture.  The tribute will also demand the US Congress name August 28th, Jack Kirby's birthday, as National Jack Kirby Day.

Web TV creators Steven Wasserman and Victor Solis have created a tribute video to honor Jack Kirby's life achievements (http://youtu.be/Lo5pLTy4JZs) in a "comic book" style.  Wasserman and Solis support the efforts of "The Hero Initiative", which have granted over $500,000 to over 50 comic book veterans who have paved the way for those in the comic book industry today.  The Hero Initiative with the help of Jillian Kirby, Jack's granddaughter, also plans to celebrate Jack Kirby's birthday with the "Kirby4Heroes" campaign.  This campaign have recruited 100 artists and a significant number of comic stores to donate a percentage of their sales on August 28th to the Hero Initiative organization.

"Like many of us independent filmmakers, comic book writers and artists have no big pension plans, no behemoth unions for support, no recourse when hard economic times hit home," said Solis.  "These creators toil tirelessly at their craft to deliver beautiful stories to audiences.  The least we can do as loving fans is to give something back to these visionaries."

Producing partners Wasserman and Solis are also raising awareness of the campaign spearheaded by Kirby's granddaughter Jillian Kirby, Kirby4Heroes.  The 16 year old's ambitious project is spreading the mission of Hero Initiative.  Many fans are shocked when they learn that Kirby estate has not received a single cent from the successes of the epic films recently produced by Marvel Studios.  She recently created a message on Youtube to encourage others to help comic creators in need (http://youtu.be/NPFnQyNp9b0).

For more information about Tuesday August 28th tribute event in front of Grauman's Chinese Theater, please contact Edwin Duterte at 310-571-5483 or Edwin@theviralpublicity.com.  

About Steven Wasserman and Victor Solis:

Wasserman and Solis are co-creators of "Generic Girl", a 10 episode comedy series currently on JTS.tv/genericgirl.  Inspired by silver age comics and their television adaptions in the 1960's, Generic Girl was conceived as a loving send-up of comic book and television storytelling conventions.  

For more information about the Generic Girl series, go to http://gogenericgirl.com/2012/08/jack-kirby-tribute-video/.