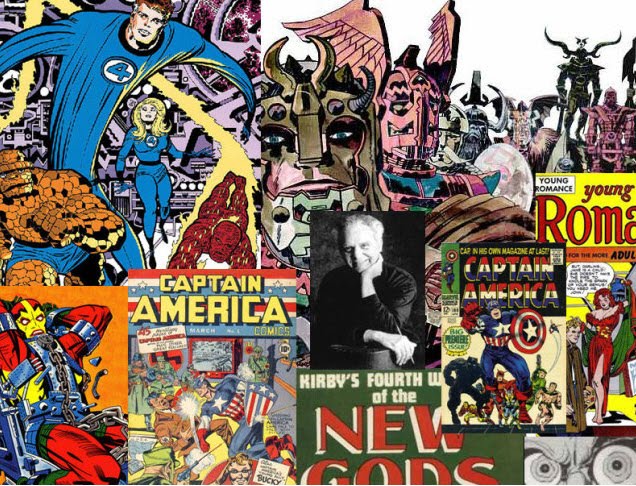 Coming up soon, I'll be presenting some guest posts by readers, then I'll get back to the business as usual of showing Jack's art, although I see so many new Kirby blogs popping up I'm tempted to retire. 😀
Here's some links sent in by readers where a few other sites discussed some of the goings-on here at Kirby Dynamics during Stan Lee month. My thanks to these bloggers for checking out the site and commenting, and thanks to readers for sending in the links and for sending in so many other great items like all the great Kirby scans and feedback on the site.
Marvel Boycott Diary: Passover Edition
http://frequential.blogspot.com/
Item! …at the Jack Kirby Museum, Rob Steibel has been using his Kirby Dynamics blog for the past week for a series where he pretends to interview Stan Lee about his collaborations with Jack. It's a great series. Rob's premise is twofold. He argues that since the judge's decision in Kirby family's case against Marvel hinged entirely on Stan's testimony and claims that he created Marvel, and because nobody ever seems to ask Stan any hard questions about the conflicting stories he's told over the years, there are a lot of unanswered questions. The whole thing is done with a sense of humour since the

http://www.blogger.com/img/blank.gif

Stan/Jack credit question is such a tired debate for so many fans. Rob summarizes the series in his last post but there are many diversions including a debate with Greg Theakston and a summary of the debate on facebook. Along the way, much is made of the infamous "synopsis" of Fantastic Four #1, which Stan and Marvel claim is proof of Stan's arguments. If you are at all interested in these matters, you should really read everything here.
With Great Chutzpah…
http://timebulleteer.wordpress.com/2012/04/23/with-great-chutzpah/
In the midst of the imbroglio over Alan Moore and Before Watchmen, Rob Steibel's Kirby Dynamics blog reminds us that Marvel's record of caring for creators isn't any better.

In a new documentary about Stan Lee, "The Man" takes sole credit for creating the Black Panther when history indicates that some guy by the name of Jack Kirby had just as much – if not more – involvement in conceiving the character.

Lee also claims credit for The Falcon, when the idea – as originally revealed in the forward to a Marvel Masterworks Captain America volume – apparently originated from the mind of Gene Colan.

Guess those constant cameos in every single Marvel film, cartoon and video game weren't enough to stroke Stan's ego…