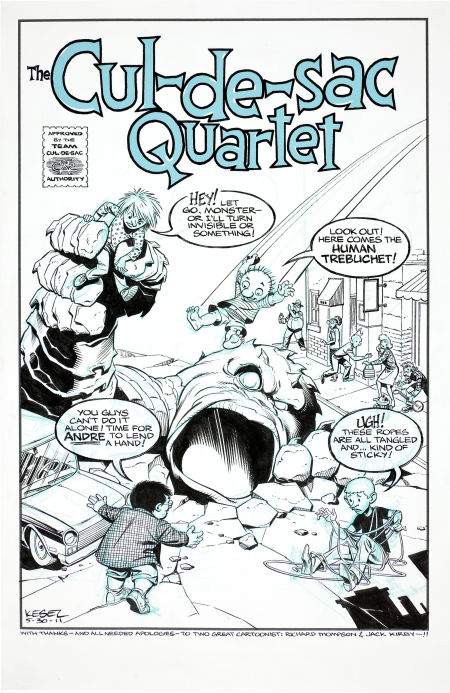 Here is a piece of art by Karl Kesel that will be in the new Team Cul de Sac book which is available for pre-order. It will be out next month. I grew up seeing Richard Thompson's wonderful work in the pages of the Washington Post, so I was very sad to hear he is suffering from Parkinson's disease. Proceeds from this book will go to Michael J. Fox's Parkinsons research project. Here is one of the press releases for the Team Cul de Sac project.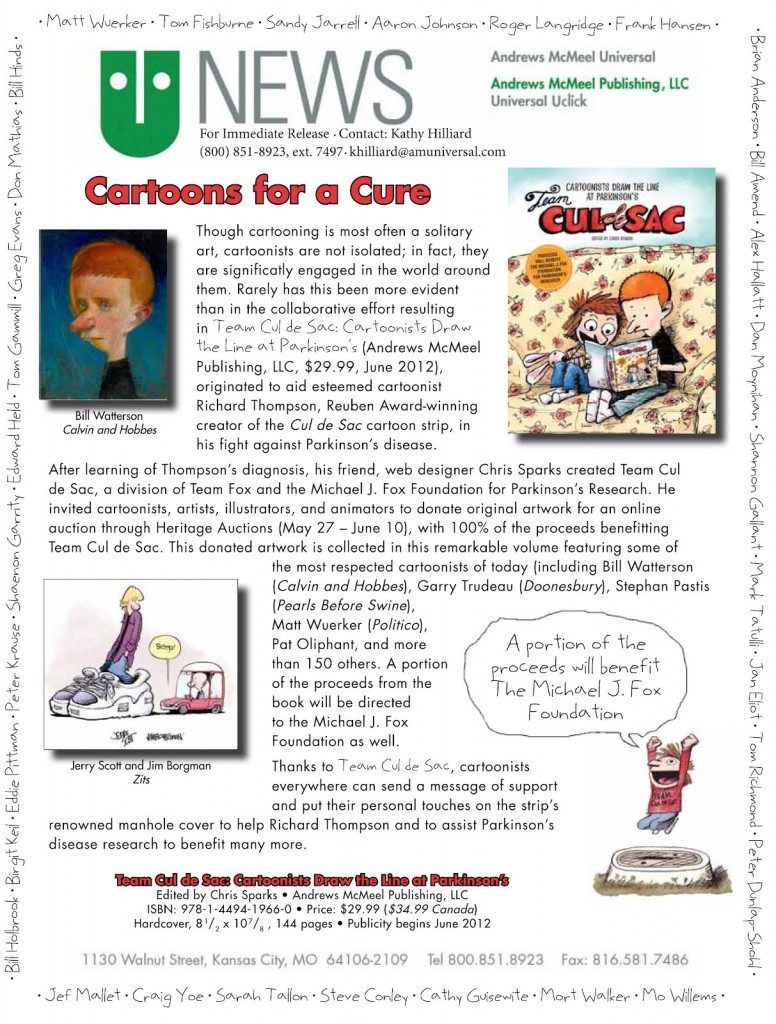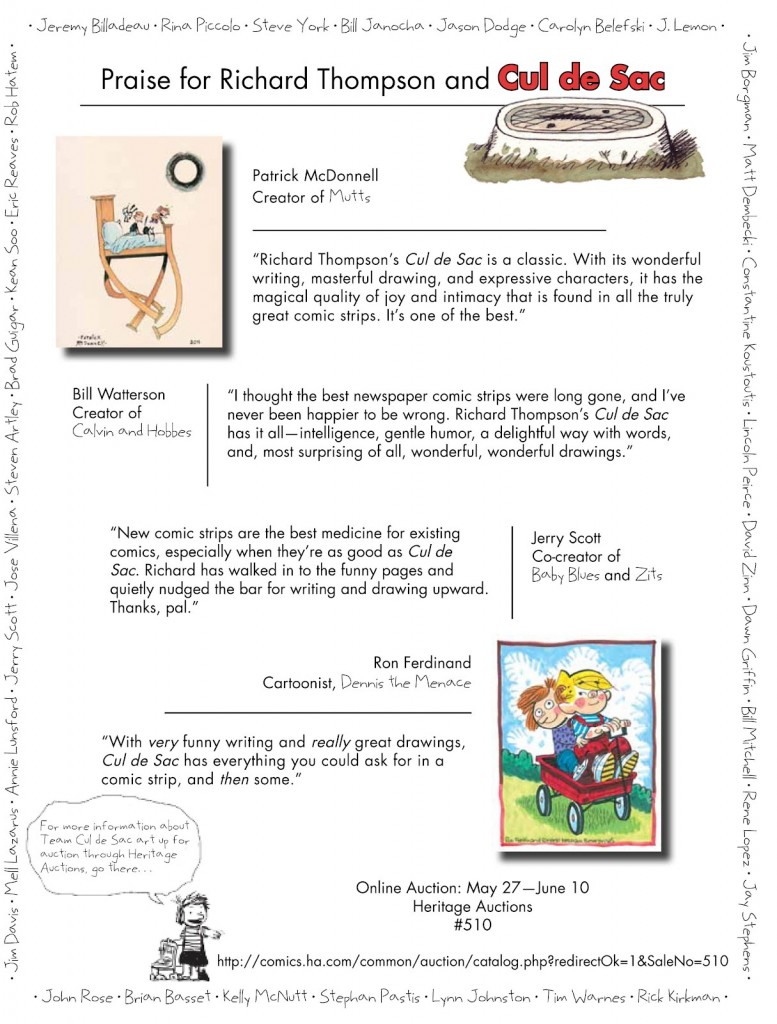 There are about 150 great artists whose work appears in the book. Just a handful of the names you will recognize include Jim Davis, Bill Amend, Sergio Aragones, Mort Walker, Gary Trudeau, Patrick Oliphant, Cathy Guisewite, Tom Richmond, Patrick McDonnell, Lynn Johnston, Bill Watterson, and Robert Steibel.
Okay, so I'm not as famous as Bill Watterson, but it's a great honor that one of my cartoons was included in the collection. Here is my character Scrap from the Apple Creek Kids with Richard's character Dill. Kirby-related: you can see a bit of Kirby crackle and a few squiggles there in the waterfall. 😀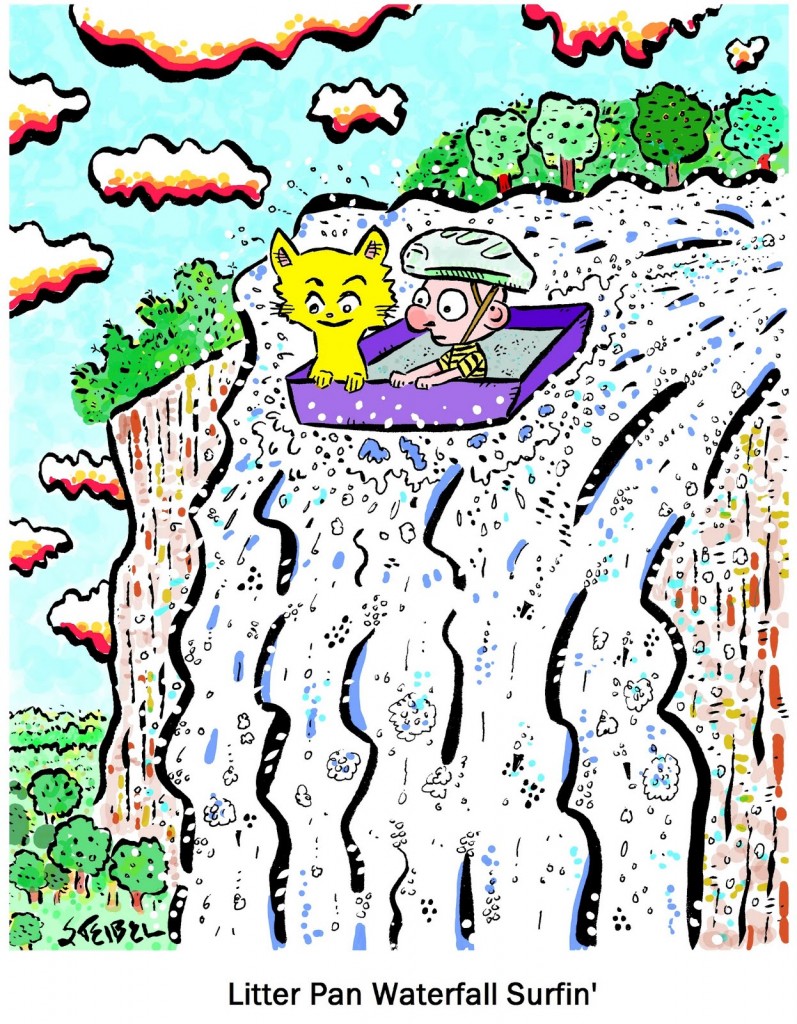 One of the things I tried to capture with this piece was the feeling of plunging into the unknown, which is what I think Richard or anyone with Parkinsons must experience when they first learn they have the disease and they have to begin the lifelong process of learning how to deal with the unpredictable effects of Parkinsons on a daily basis — the goal is to hold on for the ride and try and make the best out of the tumultuous journey that lies ahead.
I gave Dill a completely blank expression: he symbolizes that moment of transition — peering over the precipice — do we go from joy to terror, terror to joy? It's that in-between moment, like a freeze-frame from an old animated cartoon where for an instant the face is expressionless — the features are going from one extreme to the other. My Scrap character's expression reflects the personality of many of the young people I encounter nowadays: adventurous, totally fearless, seemingly indestructible, but a little naive — just the kind of friend you would want sitting next to you if you are starting a new chapter in your roller coaster life where you'll have to battle something like Parkinsons disease, in addition to all the other trials and tribulations of everyday life.
I love little details Richard Thompson puts in his work like having Dill wear the helmet when he's rocking out in his kiddie car in the Cul de Sac Sunday comic below.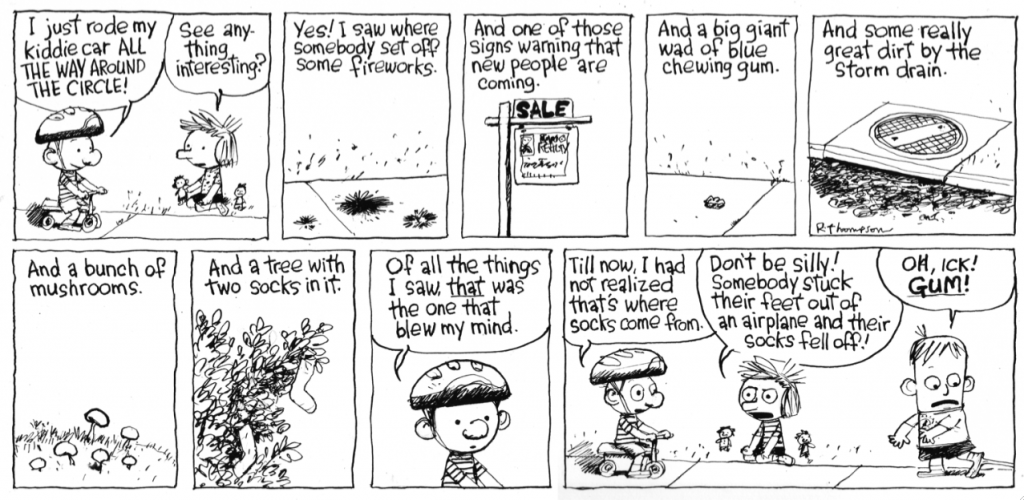 If you want to check out a sample of Richard's incredible body of work, you can visit his website. Richard is one of the best cartoonists in the business.
Here's the whole list of cartoonists in the Team Cul de Sac collection.
Amend, Bill
Anderson, Brian
Anderson, Mark
Aragones, Sergio
Artley, Steven
Auger, Michael
Basset, Brian
Belefski, Carolyn
Bell-Lundy, Sandra
Billadeau, Jeremy
Bolling, Ruben
Borgman, Jim
Boris, Daniel
Bratton, Doug
Browne, Chance
Burns, Jean
Carillo, Tony
Clark, David
Cole, Michael
Cole, Tyson
Conley, Steve
Conroy, John
Corsetto, Danielle
Cravens, Greg
Curtis, Stacy
Dale, Barbara
Davis, Nikki and Derek
Davis, Jim
Dembecki, Matt
Detorie, Rick
DiPerri, Nathan
Dodge, Jason
Dorkin, Evan
Duffy, Joe
Dunlap-Shohl, Peter
Eaton, Ken
Eliot, Jan
Evans, Greg
Farrago, Andrew
Faust, Craig
Ferdinand, Ron
Feuti, Norm
Fies, Brian
Fishburne, Tom
Fosgitt, Jay
Galifianakis, Nick
Gallant, Shannon
Gammill, Tom
Garrity, Shaenon
Gilligan, Paul
Grall, Caanan
Griffin, Dawn
Guigar, Brad
Guisewite, Cathy
Hagen, David
Hallatt, Alex
Hambrock, John
Hansen, Frank
Harbin, Dustin
Harrell, Rob
Hatem, Rob
Held, Edward
Hinds, Bill
Holbrook, Bill
Holm, Matt
Janocha, Bill
Jantze, Colette and Michael
Jarrell, Sandy
Johnson, Aaron
Johnson, Ian
Johnson, Kerry G
Johnston, Lynn
Jones, Doug
Juliano, Phil
Keil, Birgit
Kellet, Dave
Kesel, Karl
King, Jamie
Kirkman, Rick
Koford, Adam
Konor, Susan Camilleri
Koutsoutis, Constatine
Krause, Peter
Langridge, Roger
LaRocque, Bill
Lazarus, Mell
Leach, "Tiki" Carol
Lemon, J.
Lewis, Donna A.
Libenson, Terri
Lintula, Samuli
Lopez, Rene
Lotshaw, John
Lunsford, Annie
Mahood, Jonathan
Malki, David
Mallett, Jef
Mastronianni, Mason
Mathias, Don
McDonald, Dave
McDonnell, Patrick
McNutt, Kelly
Mitchell, Bill
Mitchell, Bono
Moynihan, Dan
Oliphant, Patrick
Parisi, Mark
Pastis, Stephan
Peirce, Lincoln
Perry, Charles
Piccolo, Rina
Piro, Stephanie
Pittman, Eddie
Polk, Jerrard K.
Price, Hillary,
Reaves, Eric,
Rempe, Scott
Richmond, Tom
Rolfe, D.M.
Rose, John
Satz, Crowden
Schechner, Chris
Schweizer, Chris
Scott, Jerry
Sikoryak, R.
Sinnott, Adrian C
Snyder III, John K.
Soo, Kean
Sorensen, Jen
Sparks, Chris
Steibel, Robert
Stephens, Jay
Sutliff, Joe
Tallon, Sarah
Tatulli, Mark
Thompson, Dan
Tomaselli, David
Trap, Paul
Trudeau, G.B.
Turnbloom, Lucas
Villena, Jose
Walker, Brian
Walker, James Tim
Walker, Mort
Warnes, Tim
Watterson, Bill
Willems, Mo
Wilson, Emily
Wolfe, Ron
Wuerker, Matt
Yoe, Craig
York, Steve
Zinn, David
I hope you all will consider supporting this project. It's one of those rare occasions where the comics community can come together and pay tribute to a man like Richard Thompson — who is one of the real class acts in the industry — while at the same time we can help to fight Parkinsons.