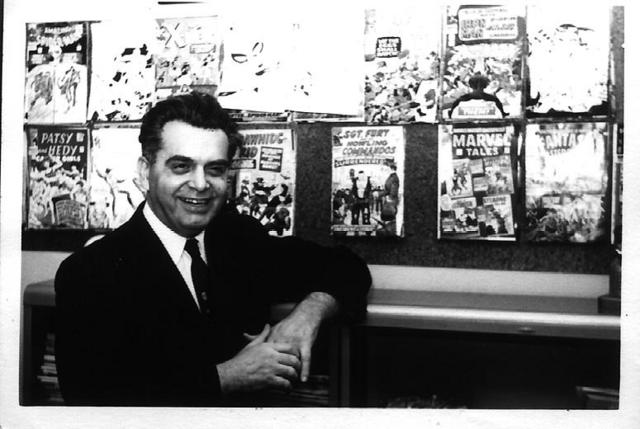 Here's another site with a lot of Kirby artwork.
http://themarvelageofcomics.tumblr.com/
I wish these sites gave you the ability to go through the archives month-by-month, the only way to look at everything is to go through the weblog page by page. You can see some examples in this blog where the author transcribes some of Jack's margin notes. Here's a few examples. I'm not sure who the author of the site is, but the text is his/hers. I'll post some more examples of these in the future.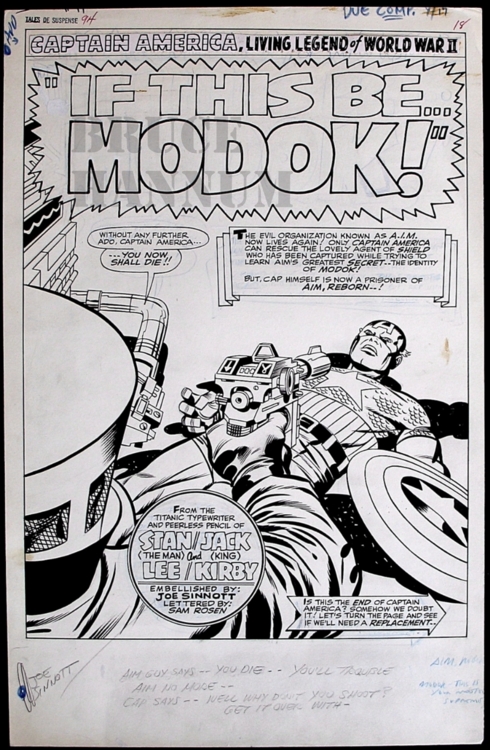 Splash page to the Captain America story from TALES OF SUSPENSE #94 by Jack Kirby and Joe Sinnott. Based on the change to the inking credit, it seems likely that Sinnott wasn't intended to be the original inker, but was a last-minute replacement. A note at the top indicates that the job was due completed 9/19.

Kirby's border notes read:

AIM GUY SAYS—YOU DIE—YOU'LL TROUBLE AIM NO MORE—

CAP SAYS—WELL WHY DON'T YOU SHOOT? GET IT OVER WITH—

And a tiny note in the corner seems to be Stan working out some dialogue:

AIM REBORN

MODOK—THIS IS YOUR MASTER SUPREME

A page from the Nick Fury, Agent of SHIELD story in STRANGE TALES #146, layouts by Jack Kirby, pencils by Don Heck and inks by Mike Esposito.

A number of Kirby's border notes remain:

RIP OUT MACHINERY—WIRING (words missing) OFF ELECTRIC BARRIER

SHIELD AGENTS SURGE FORWARD. TECHNICIANS ARE DEAD. FURY SAYS THIS IS A BREAK BUT DANGER IS STILL GREAT. (words missing) WITH ARTIFICIAL MEN RUNNING AMUCK

DUM DUM LOOKS AT

FURY, FOLLOWED BY MEN, SAYS NOW WE'LL SEE WHAT THIS WEIRDO OPERATION IS ABOUT—IF WE LIVE THROUGH THIS

MAN MAKES SPEECH—HE SAYS A.I.M. INDUSTRIES IS NOT A BUSINESS—BUT A CABAL OF GREAT MINDS—GEARED TO BENEFIT WORLD

A great page from one of the best of the early X-MEN issue, layouts by Jack Kirby, pencils by Werner Roth and inks by Dick Ayers.

Lots of Kirby border notes still visible on this one:

HAND SHOOTS OUT OF DARKNESS AND NAILS CYCLOPS.(KEEP FIGURES ALMOST SILHOUETTE WITH DRAMATIC HIGHLIGHTS)

CYCLOPS REACTS—SHOOTS FORCE RAY FROM WHERE BLOW CAME—BUT HITS NOTHING

HAND SHOOTS OUT FROM BEHIND CYCLOPS AND BELTS HIM GOOD

CYCLOPS IS DOWN. HE TRIES TO SHAKE OFF BLOW. HE LISTENS FOR ADVERSARY BUT CAN'T HEAR HIM. IT'S AS IF HE VANISHED.

CYCLOPS BLASTS RAY IN ALL DIRECTIONS

CYCLOPS LISTENS. HE MADE ALL ROUND SWEEP OF THE ROOM. IF HE HIT ANYONE HE DIDN'T HEAR HIM FALL.

CYCLOPS TRIES TO GET

HAND COMES OUT OF

And Stan has notes for production man Sol Brodsky:

SOL—COULD ARM BE MORE VAGUE?

SOL—MORE VAGUE?