Thanks to everyone for the on and off-the-record feedback on the "KirbyArt?" post. Thanks also for the comments here and here.
This is another piece that might be a forgery we discussed recently: Fantastic Forgery.
//kirbymuseum.org/blogs/dynamics/2011/08/26/fantastic-forgery/
That Doctor Doom piece looks a little like the Captain America piece, so I wonder if they were done by the same hand. The two signatures look similar, and you can see some similarity to the downwards left-to-right pencil texture in segments of the shading. Apparently the Dr. Doom piece was considered to be legitimate Kirby art for many years, so much so it appeared in this art book.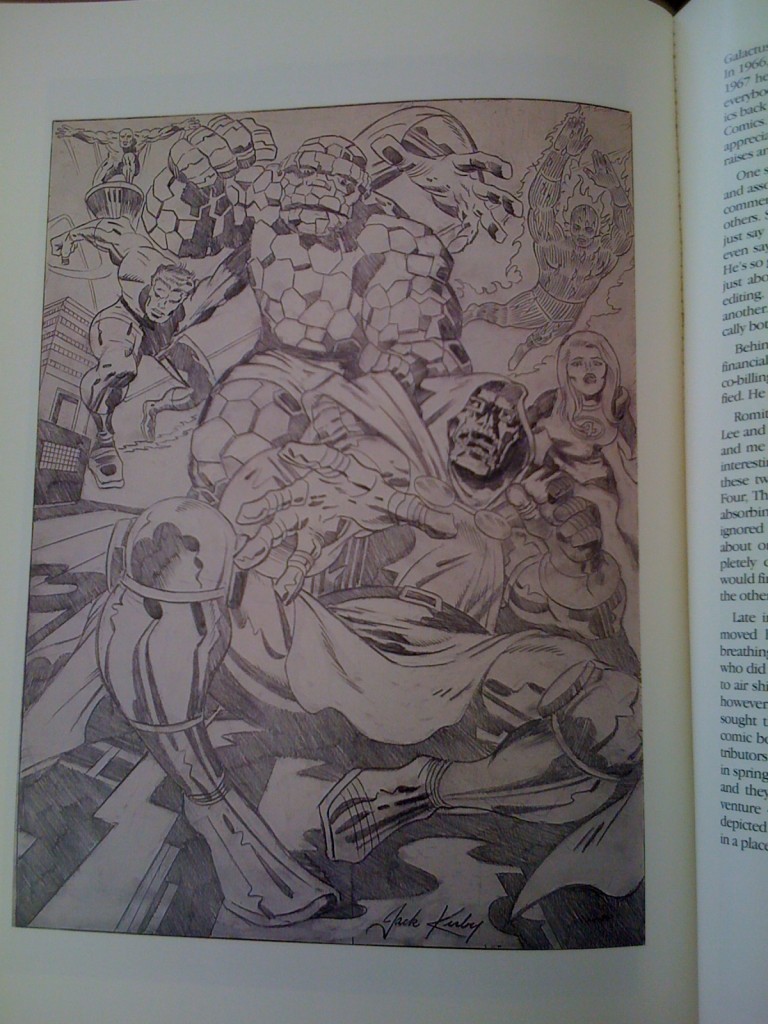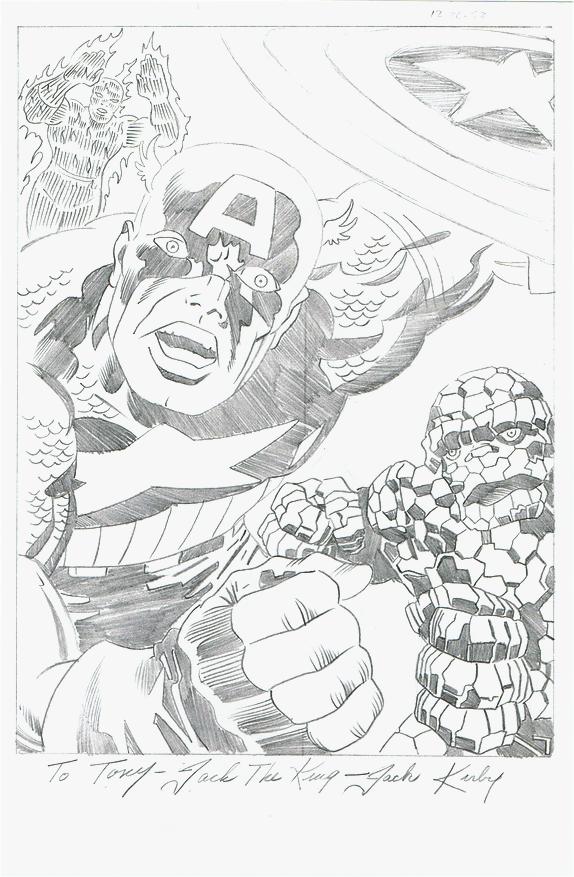 I was a little disappointed the art collector who owns the Captain America piece never got back to me after two email requests for information. When I was buying comic art earlier in the decade I'm pretty sure he'd get back to me immediately when I had questions, but no reply on this one. I suppose maybe silence is the best tactic in a situation like this?
http://www.kirbyart.com/art.html
The page is still listed as a "featured item" at $5200. Obviously if the dealer is kind  enough to give us some background information on this piece or share any more information with us, I'll let you know. I also posted a question about the piece on a forum where Greg Theakston is a member, maybe he'll tell us if he thinks this was done by the assistant he claims Kirby used later in life.
To all of you original art collectors out there: I know some of you here have been following Kirby for decades, any of you recall when the Captain America piece first surfaced on the market? Did Jack and Roz sell this piece to someone or is the original provenance unknown? When I was collecting Kirby art from about 2004 – 2006 I never saw this piece, so I'm wondering if it popped up recently or if it's been floating around since the early 1990s (the art dealer lists its date as possibly early 80s). Also if any of you are on the comicartfans list, please consider forwarding this to them.
Thanks again to everyone for the comments.