Charles Hatfield's new book about Jack Kirby called Hand of Fire is available for sale.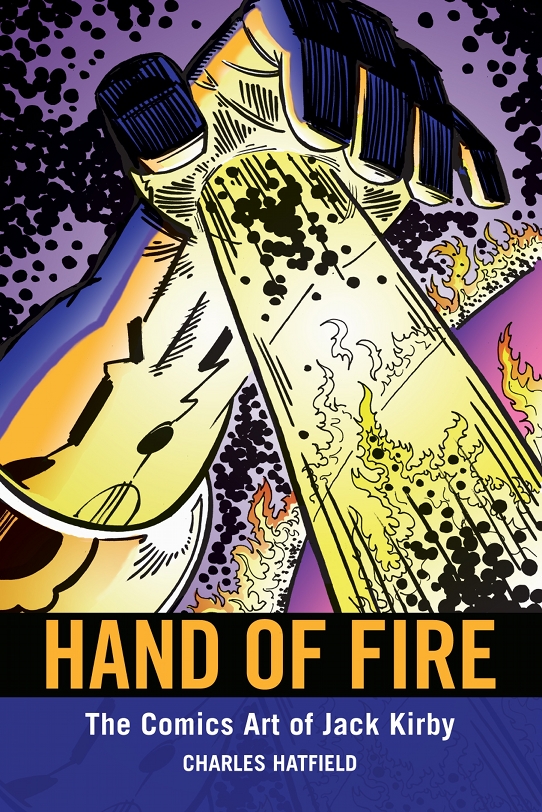 Charles is one of the best comics historians out there so I encourage you all to pick up a copy. It's on sale at amazon .com here: Hand of Fire – by Charles Hatfield.
There are several books out there giving a chronological history of Jack's life, and there have been many magazine and fanzine articles written about Jack's life and work, but  it's about time someone put out an entire book approaching Jack's work from an academic perspective. I've seen many comics fans dismiss Jack's work as nothing more than vacuous men in tights colliding, so my hat is off to Charles for giving Jack's work the the more serious and scholarly approach it deserves.
If published comics scholarship is ever going to have any really serious relevance at the university or cultural level, I think this book will be a first step in that direction — Kirby was such a pivotal figure in the comics industry, there has to be a book like this on the book shelves; imagine a literary theorist studying the history of literature with no books on the writings of William Shakespeare in their library? Thanks to Charles, I think now comics historians have a book with some serious analysis of Kirby's work that they can use as a first step if they want to simply reflect on Jack's work for themselves, or Charles's book can help springboard them into their own analysis of Jack's work.
I'm not sure what the future of comics scholarship is going to be, but I do think that if, say, 100 years from now you have students writing about Jack Kirby and his work, Charles' book is going to have to be a part of their bibliography, so congratulations to Charles for what he has accomplished. I wish Charles the best with the project, and I'd like to thank him for his hard work.