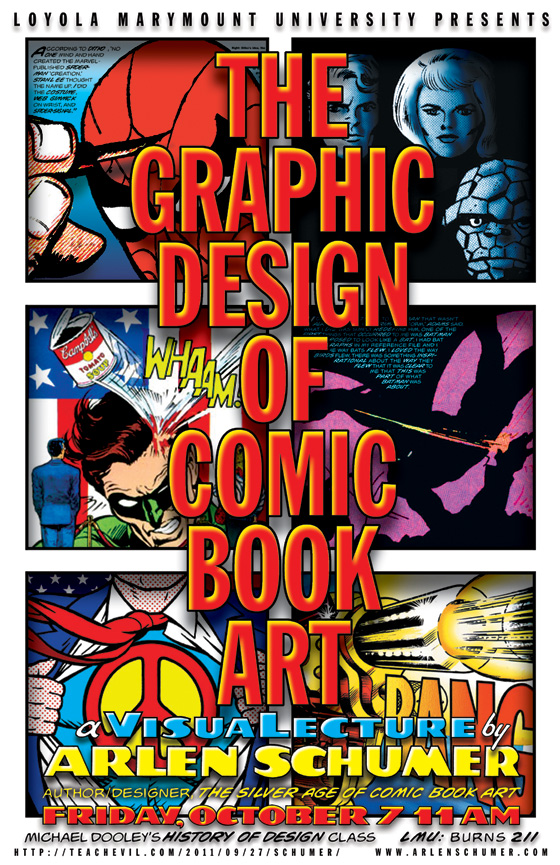 Here's a recent email from Arlen Schumer:
Comic books as graphic design? Of course they are! Come to my Loyola Marymount University class next Friday morning at 11 for a special presentation and see for yourself.

Award winning comic book-style illustrator Arlen Schumer will present an overview and retrospective of his works. Throughout his extensive, prolific career Arlen has been bridging the gap between two verbal/visual artistic disciplines: comic book art and graphic design. Comic Book Artist magazine named Arlen "one of the more articulate and enthusiastic advocates of comic book art in America." Based in New York, he lectures at universities and cultural institutions across the country.

Arlen's also one of the foremost historians of comic book art, from his landmark special issue of Print magazine devoted to comics in 1988, to his forthcoming presentation at the New York Comic Con, "The Auteur Theory of Comics." His coffee table art book, "The Silver Age of Comic Book Art," won the Independent Publishers Award for Best Popular Culture Book of the year. His other books include "Visions of the Twilight Zone" and "The Neal Adams Sketchbook."

Come hear Arlen in person. And as always, my guest speaker classes are free!