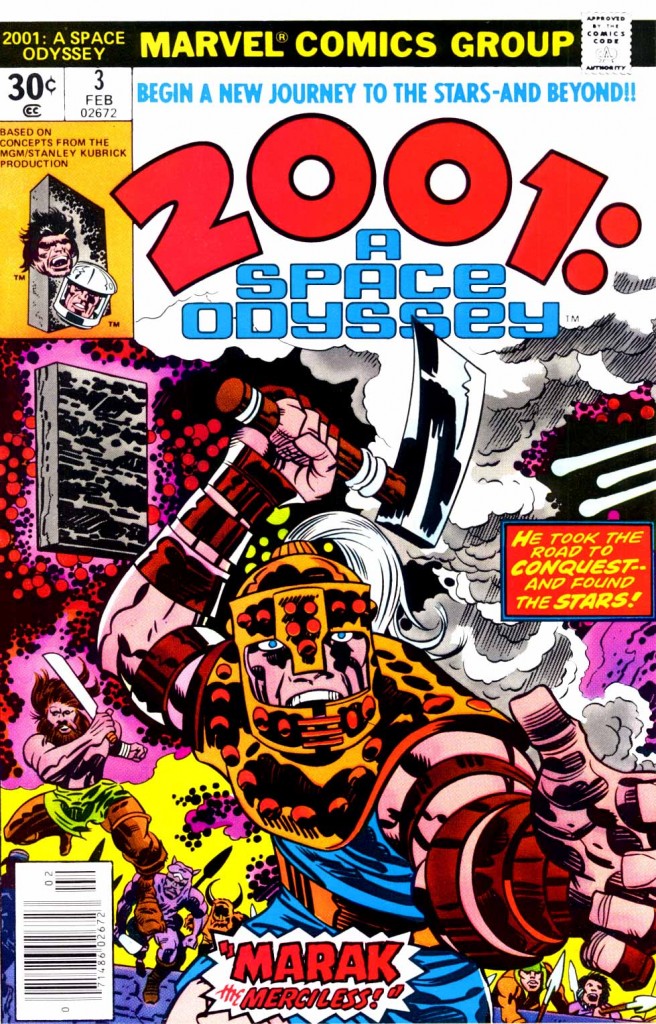 Here's a comment from John Sagness over on the Kirby Museum FaceBook page discussing the original art for the cover to 2001: A Space Odyssey # 3.
http://www.facebook.com/KirbyMuseum
John Sagness: This was an incredible issue, in which Kirby — in yet another stroke of creative brilliance — recounted nothing less than THE CREATION OF THE WHEEL, while telling a highly engaging story of a barbarian with a brain. This particular cover…, however, was most likely inked by John Verpoorten, not Mike Royer, and the actual printed cover may have been shot from a stat, as the spears silhouetted in the lower left corner are shaped slightly differently on the printed version than on the original art — suggesting that it could have been photographed from a retouched PMT (stat).
Thanks for the comment, John, Great observation. Above is the published cover of that book. A Kirby masterpiece.
On the JackKirbyCreates forum moderated by Allen Smith, two of the members complained that I have the comments-option turned off on Kirby Dynamics. I wanted to post their full comments here and address them, but neither member would give me permission to use their comments. Ironic, right?  They complained I don't have the comments on, then they denied my request to use their comments. 🙂
I'll address the question anyway: I might turn on the comments here one day, but for now, I want to keep the reader's focus on Jack's artwork — not pointless personal arguments amongst comic book collectors that tend to take place in internet blog comments sections — but If you have any comments for Kirby Dynamics, there are four ways you can do that:
(1) I encourage you to  email me via private email, I promise I will read your email and respond unless I suddenly become famous and start getting thousands of comments.
My email is: robsteibel@yahoo.com
(2) Join JackKirbyCreates and post your comments there.
http://groups.yahoo.com/group/JackKirbyCreates/
I tried to get moderator Allen Smith to make that forum public so anyone can read the posts or anyone can comment, but he decided to keep the forum membership only, which is a shame because I think it discourages people from taking part in the online Kirby dialogue. But it's a forum worth joining in my opinion, because you have some terrific Kirby experts there like Greg Theakston, Stan Taylor, and Kenn Thomas. I do warn you that Kirby seems to attract certain argumentative comics fans who like to attack Jack and his fans, so you'll find that at times that forum does drift way off-topic into pointless personal rants from Jack's critics.
I also think online chat is moving away from forums like Yahoo chat and most of the online Kirby conversation is taking place in social media forums like Twitter, or in various comics forums, so there isn't much traffic at JackKirbyCreates, but it is an interesting glimpse into the behind-the-scenes conversation that takes place amongst Kirby historians, students, and just plain fans.
(3) Or post your comments on the Kirby Museum FaceBook page. Joining the Museum FaceBook page is a great way to get updates on when all the Kirby Museum blogs are updated or get direct Kirby Museum updates. Almost 1000 members so far. You don't have to be a member to read the posts there.
http://www.facebook.com/KirbyMuseum
(4) Finally, feel free to respond to any of my posts on your own weblog. Email me a link and I'll be more than happy to respond.
Thanks to all of you out there who have mentioned Kirby Dynamics. For example, thanks to Tim Hodler at The Comics Journal for recently mentioning the article on "Kirby Crackle" — I got a lot of great feedback thanks to that link, and highly recommend the work being done by all the folks at The Comics Journal.
http://www.tcj.com/back-to-school/
Thanks to so many people for all the kind emails, and to all of you who have given me permission to use your Kirby comments, articles, and scans here. I've met some great people thanks to doing this weblog, and my thanks to you all for making studying Jack so much fun. Much more great Kirby art to come.
Here's a photo of Jack someone just sent in, I assume posing for photo reference while working on the art for a crime comic cover.