Here's another short segment from the Kirby biography Stan Taylor is writing. Thanks, Stan.
By Stan Taylor:
Just after Kirby started the Fourth World series, his son Neal graduated from Syracuse with a Business Degree.  He moved back to California and brought with him his young wife.  Neal and Steve and Mark hit it off immediately.  After the debacle at Marvelmania had ended, they were still excited about the possibility of marketing items relating to Jack's art.  Over the dinner table they decided on putting together a portfolio of Jack's art through the years, plus add in a simple biography.  The result was Kirby Unleashed.  It featured many examples of Jack's early art, most of which had never been seen by the public before.  Plus it had rejected pages, and production pages from recent series, and a preview of Jack's new New Gods books.  With a biography by Mark Evanier, and the graphic work by Steve Sherman.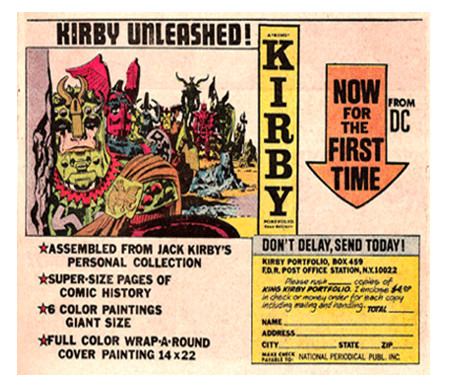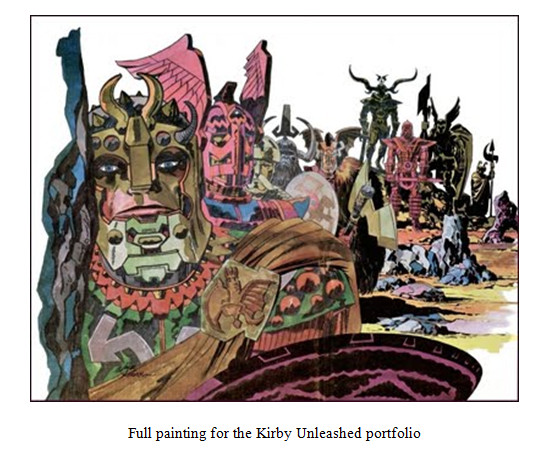 Neal did the marketing under the business name Communicators Unlimited.  It was a well packaged product that did well at first, and eventually made a little money.  It wasn't perfect, there are mistakes in the bio, and the art choices are questionable at times, but it is and was a great introductory item to the world of Jack Kirby.  They followed this up with another portfolio called Jack Kirby's Gods, which represented the Norse Gods in a different way than the Marvel versions. These were inked by Don Heck and colored by Jack.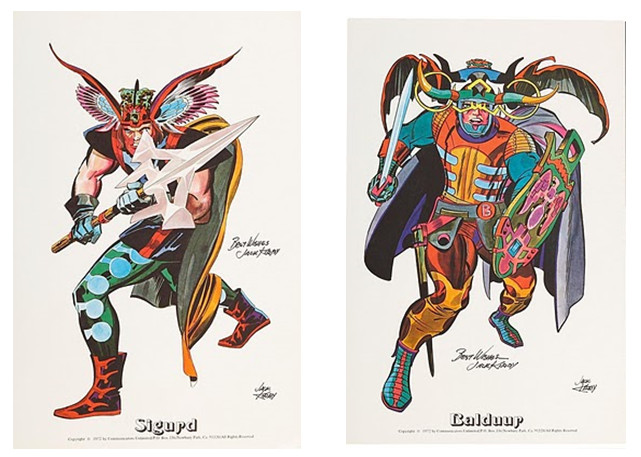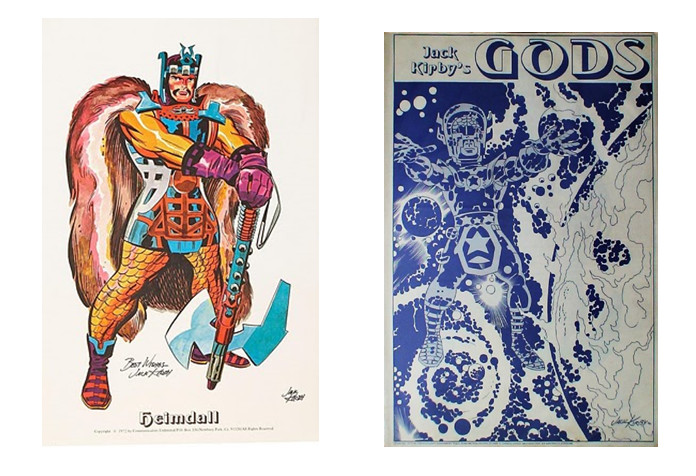 With the two portfolios in hand plus other small items they had made up, they attended a Comic Convention in New York.  The convention gave them a private room and they opened for business.  Neal said they were amazed, the stuff was flying off the shelves.  They thought they had struck it rich.  Despite the flush of success at the Comic Con, the portfolios only made a small profit. Other jobs soon took them away from self-marketing.  These portfolios remain as perhaps the purest Jack Kirby  merchandise ever done, and a wonderful memorial to Kirby's majesty.