Excellent page from Captain Victory# 13, page 17. Kirby/Thibodeaux. Anyone else have a hard time remembering how to spell Mike Thibodeaux's last name. 🙂 I always have to double-check to make sure I didn't spell his last name wrong.
By all accounts Mike Thibodeaux was an incredibly good friend to Jack and Roz towards the end of Jack's life. I'd love to learn more about his relationship with Jack.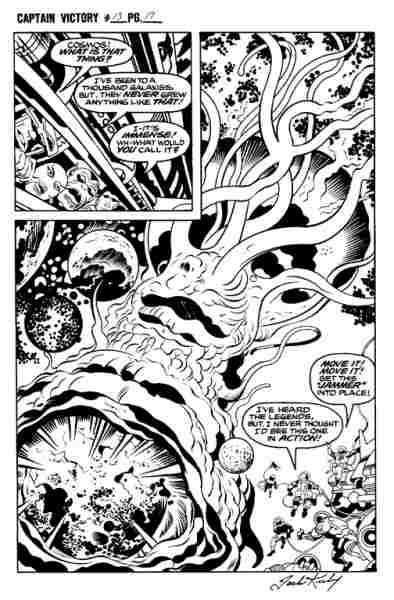 Sorry about this scan of the published page below being stretched out like that. Earth to Museum Director Rand Hoppe, come in Rand, are you out there? Any chance you can tweak the Museum site settings so I don't have to lower the resolution on my scans? Something has been wrong with the vertical setting for several months now, so I have to reduce the size of them to fit here, and I'd like to be able to send HQ scans to the museum site, not scans I reduced in size to fit the new parameters. Thanks! (insert smiley)! People are sending me great HQ scans and I'd like to post them here  without reducing them in Photoshop.
If you click on the scan you can see it at the right dimensions (sigh).
Does look kinda' cool and psychedelic stretched out though. I guess…