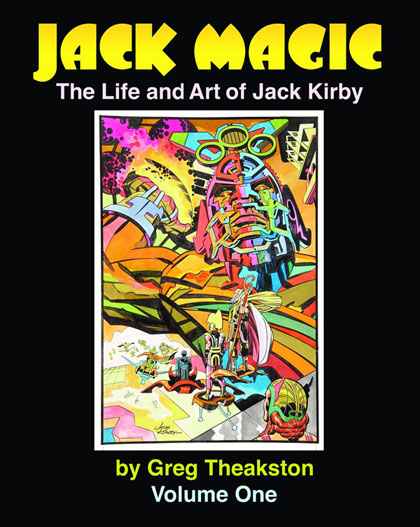 Greg Theakston recently put out Volume One of his long-awaited and much-anticipated  Jack Kirby biography called Jack Magic. Greg is one of the few comics historians out there who actually spent a significant amount of time with Jack, so he gives us a rare insider's point-of-view into Jack's life and work that is tremendously valuable.
In Jack Magic Volume One, Greg concentrates on presenting the history and covers Jack's career up to early 1962. My guess is that in Jack Magic Volume Two, Greg will be able to speak more about his working relationship and friendship with Jack since they were associates during that period. Here's the cover for Volume Two which I don't think has been released yet.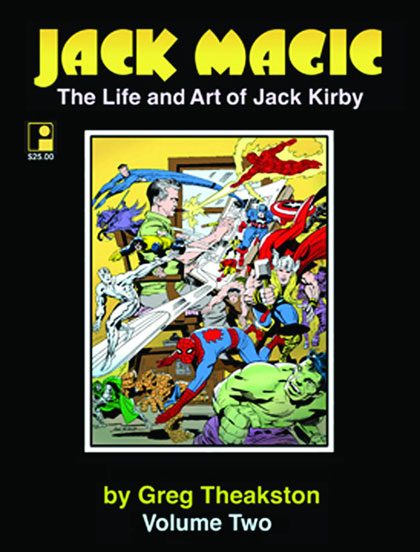 Weaving comics scholarship together with his own interviews with Jack, In Jack Magic Volume One Greg paints a detailed portrait of Jack's career all the way up to the publication of the first several issues of Fantastic Four. There are plenty of important dates and publications for anyone interested in learning about or understanding Jack's early career.
The book has plenty of great artwork, and there are some terrific photos of Jack that I hadn't seen before. Greg does a wonderful job presenting facts and weaving them with illustrations. I enjoyed Ronin Ro's Kirby biography Tales to Astonish, but it didn't have any photos or artwork, and I think when you are writing about an artist, showing his art is very important, especially if you want to reach readers who are unfamiliar with that artist — so Greg's Jack Magic is a perfect introduction to Jack if you want to introduce him to a new fan, and a great stroll down memory lane if you are already familiar with Jack's background.
If you are already a Kirby fan, Greg's book is a fun read — it's something every Kirby fan and every comics fan needs to have on their bookshelf. Greg's interviews alone make this a valuable resource and I suspect the scholarship is very reliable since Greg has been researching comics and Kirby for decades.
Jack didn't have a whole lot of associates, he mainly worked alone and spent time with his family, so having a chance to read a book written by someone who spent time with Jack is a real pleasure.
I don't know how many copies Greg has left but if you send $25 to —
Pure Imagination
55 A Moreland Ave. NE
Atlanta, GA
30307
— Greg will mail you a copy. I highly recommend this book and am really looking forward to Jack Magic Volume Two — I can't wait to read Greg's take on that part of Jack's career. I know Greg has been working on this project for a long time, so I want to say congratulations to him for finishing the project. I also want to say thanks to Greg for answering all my questions over the years. And on behalf of all of Jack's fans, thanks for keeping Jack's work in print.
So break out your checkbooks Kirby fans and comics fans — send $25 to Greg and get your copy of Jack Magic Volume One today. Help support Kirby scholarship, give a big thank-you to Greg for his hard work, and enjoy reading about the life and work of the greatest comic artist of all time.
Long live the King!
And thanks to Greg for keeping Jack's memory alive.