Doing a little net surfing, I found some better scans of several of the 7-11 Slurpee cups. This comes from the Hake's Americana & Collectibles website. They have scans of a complete set of sixty 5.25" tall plastic tumblers issued by 7-Eleven convenience stores in 1975.
Four sets of these plastic cups were produced — 3 for Marvel Comics characters and 1 set for DC Comics characters. This is the first of the 3 Marvel sets issued. Marvel's more popular characters  — Spider-Man, The Incredible Hulk and The Thing — each received 3 cups.
Other characters included: Thor, Captain America, Sub-Mariner, Iron Man, Conan, Ghost Rider, Nick Fury, Dr. Doom, Human Torch, Power Man, Scarlet Witch, Vision, Dracula, Cyclops, Beast, Invisible Girl, Mr. Fantastic, Doc Savage, Angel, Daredevil, Silver Surfer, The Falcon, Quicksilver, Doctor Strange, Valkyrie, Night Rider, Black Bolt, Night Hawk, Triton, Man-Thing, King Kull, Hawkeye, Black Panther, Clea, Medusa, Hercules, Crystal, Red Sonja, Iron Fist, Warlock, Ka-Zar, Yellowjacket, Black Widow, The Watcher, Killraven, Captain Marvel, Shang-Chi, Black Knight, Odin, and Thundra.
There's even a cup of Super-Stan — editor Stan Lee.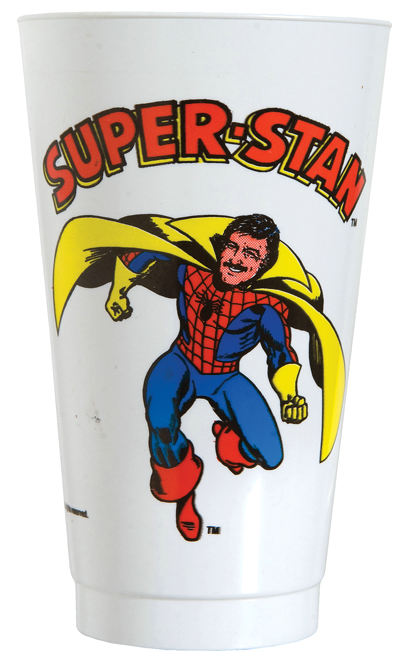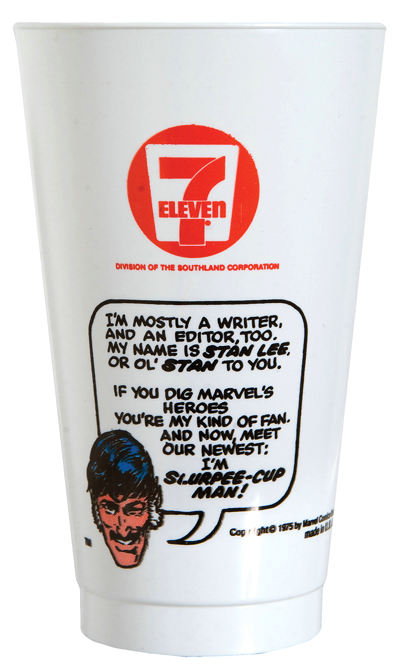 I know very few cups in the series were illustrated by Kirby, but I figure this might be a fun stroll down memory lane for those of you who remember buying these 7-11 Slurpee cups during the mid-1970s, and Jack certainly was the creator of many of these characters, so here are 1/2 of the 1975 Marvel Slurpee cups. I'll post the rest tomorrow.
I bet it would be fun to go through all of these cups and try and guess the artist/inker of each.