One of the fun things about studying the life and work of Jack Kirby is that I'm always stumbling upon things I've never seen before. For example, here is the cover to an obscure title called Gunsmoke Western# 75 (March 1963) Kirby/Ayers. Wonderful example of using a comics grid as a cover. I honestly don't ever recall seeing this approach before on a comic cover before, although I'm sure comics experts can think of other examples.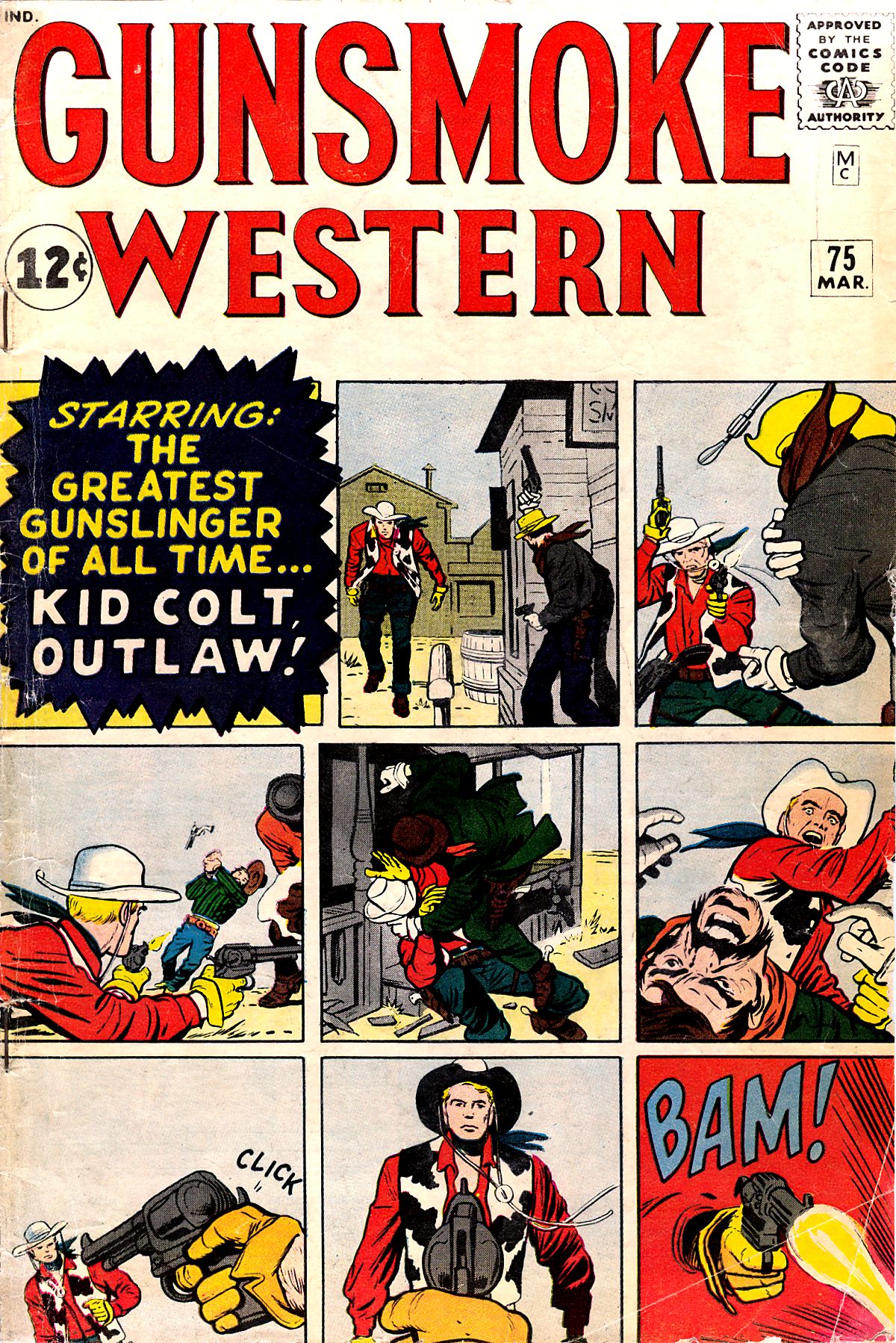 It's remarkable that TV, movie, and apparently comic book Westerns were popular for decades, then in the 1960s the genre just seemed to die all of a sudden.
It looks like this cover might have originally been an interior page. Notice the blank space especially at the top of panels 2, 4, 6, and 7 — that's where Jack left room for editor Stan Lee to add captions. It's a great action page, so I can't imagine why Lee would have rejected it, but it does look like a cannibalized page to me.
I'll go ahead and try my hand at Stan's job and see if I can dialogue this page in a about 30 seconds. Please feel free to play along at home.
Panel 2. The Bad Guy (thought balloon): HAHAHA!!! THE KID CAN'T SEE ME BEHIND THIS BUILDING — I'LL FILL 'IM FULL'A LEAD!!!
Panel 3. The Kid (thought balloon): I'LL SHOOT HIM IN THE ARM SO HE CAN FACE A JURY AND GET A PROPER TRIAL!!!
Panel 4. The Kid: TAKE THAT YOU MANGY VARMITS!!! (thought balloon) I'LL SHOOT THE GUN OUT OF HIS HAND SO HE'LL BE ALIVE TO FACE AN HONEST HANGIN'!!! (sound effects) BRAMP! BWAMP!
Panel 5. Bad Guy: HAH!! YOU DIDN'T SEE ME HIDING BEHIND THIS BUILDING DID YOU??!!(thought balloon) I'LL PUNCH HIM IN THE FACE A BUNCH OF TIMES!!! (sound effects) WAP! BAP!
Panel 6. The Kid (thought balloon) NO NEED TO WASTE AMMUNITION ON THIS MONGREL — I'LL JUST GIVE HIM A FIST SANDWICH!!!! (sound effect) KABLOOWIE!!!
Bad Guy: UUUUUUNGGGGHH!!!!!!!!!
Panel 7. Bad Guy: I GOT YOU IN MY SIGHTS KID!!!! AIN'T NO ESCAPE!!! SAY YER PRAYERS KEMOSABE!!!
The Kid: $#@& !!!!!!
Panel 8. The Kid (thought balloon): HEE-HEE, WHEN THAT IDIOT REALIZES I SWITCHED OUT THE BULLETS IN HIS GUN WITH STICKS OF DYNAMITE HE SHORE 'NUFF GONNA BE IN FER A BEEEEEEEG SUUUUPRISE!!!
Panel 9. Bad Guy: AAAAARGGGHHH!!!!