Happy Birthday to the King.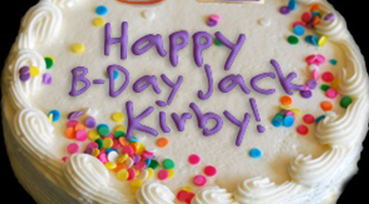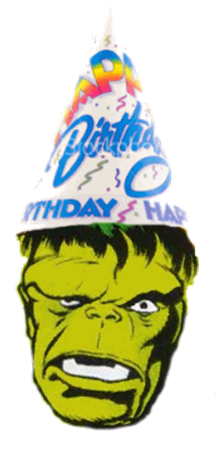 In honor of Jack's birthday, starting tomorrow I'm going to post some YouTube audio clips from a great Jack Kirby interview that originally aired on a radio show called Hour 25, so don't miss it. Each segment is about 15 minutes, and there are about 7 of them (I still need to edit the last 2).
Thanks to Kenn Thomas for sending in a CD of the Hour 25 tapes. To our fellow Kirby fans in the UK, Kenn will be at the American Dream Comics Shop at 72 Walcott Street in Bath, England for Kirby's birthday reading in public whatever Kirby work he can find there to celebrate "Read Comics In Public Day." Please say "cheers" to Kenn if you see him, and visit us here tomorrow for Episode # 1 of the Kirby Hour 25 audio interviews.
In the meantime, here is a YouTube clip for a project called Secret Origin: The Story of DC Comics (DVD Trailer), billed as "an expansive documentary exploring the 75 years of DC Comics, the memorable characters of its universe and the talented artists and writers who brought them to life."
Although Kirby did relatively few stories and artwork for DC Comics, I hope this video presentation at least mentions Jack's innovative Fourth World series as an example of an artist producing an influential and revolutionary series for that company in the 1970s.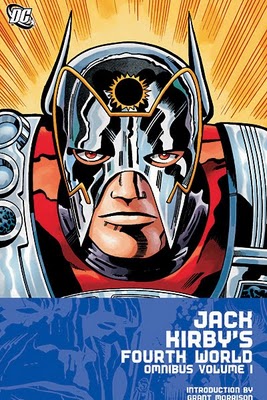 Maybe at some point Marvel Comics (now owned by Disney) will put together a similar film project on the genesis of their now-legendary pantheon of characters, most of which were created, co-created, and designed by Jack Kirby in the 1960s, but I've always been concerned Marvel may sugarcoat the reality — presenting us with a promotional piece that is very light on actual history and strong on propaganda — if they even make a proper film on Jack's life and work.
My real hope is that at some point a legitimate documentary filmmaker will put together a movie about Jack's life and tell us his side of the story, but I suspect such a project would be fairly expensive to make, unfortunately there is virtually no HQ video interview footage of Jack, and there would always be the threat that Marvel would file a lawsuit to prevent the fair use of Jack's stories and artwork if such a documentary film was critical of the way Marvel treated Jack.
I'm convinced a film about Jack's life would be the perfect vehicle to show the evolution of the comics industry through the eyes of one man. Jack's birth in 1917 as the medium was in it's infancy; growing up reading the work of Alex Raymond in the local NY papers; surviving the Great Depression by breaking into animation and comics; serving his country with distinction during the Second World War; and going on to have a remarkable career that resulted in the creation of arguably the most successful intellectual properties of all time, would make for a great film in my opinion.
One day I'm sure we will see such a project and I know it will be a visual spectacle that will be entertaining and inspiring. In the meantime, here is another funny clip making the rounds on YouTube.
A few examples of Jack's artwork from the first issue of The Avengers (Sept 1963).