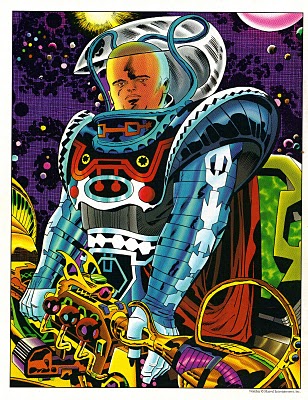 The Watcher. Pencils by Jack Kirby and inks by Al Williamson
(The Jack Kirby Collector # 15, April 1997, back cover)
Sad news that Al Williamson has passed away at the age of 79. His most famous work was his beautiful science-fiction art for EC Comics in the 1950s, on titles like
Weird Science
and
Weird Fantasy
. In the 1960s, Williamson carried on Alex Raymond's tradition on the
Flash Gordon
comic book. Williamson also produced memorable B/W work for Warren Publishing's horror magazines like
Creepy
and
Eerie
.
In the 1970s Al worked on another Raymond creation, the Secret Agent X-9 comic strip. In the 1980s he produced brilliant work for the popular Star Wars comic books and newspaper strips. From the mid-1980s to 2003, he worked mainly as an inker on Marvel Comics superhero books like Daredevil, Spider-Man, and Spider-Girl.
Al Williamson was the recipient of two Eisners for Best Inker in 1996 and 1997, as well as an inductee into the Eisner Hall of Fame in 2000.
Here is a photograph of Jack and Al together talking shop (Jack Kirby Collector # 15, April 1997, pg. 15).