The question of whether or not comic books should be considered literature is a topic that has been fiercely debated by comics historians clashing with English scholars and academics in other emerging fields such as film studies for decades. Should a comic book like Kirby's New Gods be mentioned in the same discussion as something like William Shakespeare's Hamlet?Many would find that question laughable, but we have to ask ourselves: how will the work of someone like Jack Kirby be perceived by audiences 100s of years from now? Is it possible that in the future, sequential art will be considered a legitimate form of literature worthy of serious scholarly study, and an artist like Kirby may one day be considered the Shakespeare of comics?
First of all, I think the term "literature" is loaded, many consider the concept pretentious, and in some scientific and academic circles, literary studies are looked down upon. But since that is the term most commonly used by the average person to describe writings such as poetry, novels, history, biography, and essays — where expression and form in connection with ideas of permanent and universal interest are explored — I think "literature" is the term we should use.
In my opinion: a comic book is a form of literature that combines visuals and text. Although much different than a novel which contains only prose or a film with moving images and sound — the comic book is somewhere in between: a synthesis of the two, meaning what is called for is a form of analysis that combines literary theory and film theory in order to objectively study the comics medium.
I think the emerging field of visual rhetoric gives us the best approach towards analyzing a comic book: by exploring how word and image work together to effectively convey a specific message to a specific audience, a researcher can systematically examine a piece of comic art in the same way a student of prose fiction can study a novel. I think there are three major ways to approach a comic book as a piece of literature, if the focus is on the synthesis of image & text:
Category # 1: Image as more important than text.
Category # 2: Image/text being equal.
Category # 3: Text more important than image.
Obviously, you will see various combinations of those categories at work sometimes on a single page, and any type of categorization can be debated endlessly, but I make these three distinctions because not every comic book (or individual comic book page) has the same goals or the same audience.
For example, a romance comic book tends to fall into Category # 3: usually the stories are text-driven — many times you are looking at a sequence of talking heads and prose is the main tool the storyteller uses to give the reader information.
An action/adventure story falls into category #1: the visuals tend to carry the story — if a character jumps through a window, the reader can plainly see this, so the text becomes secondary.
Category # 2 would be an ideal 50/50 synthesis of image/text, a perfect marriage of words and pictures. Unfortunately, perfect marriages are hard to come by, so I think it's important to realize there are an infinite number of approaches towards various sequential storytelling genres.
I'm going to go ahead and use the page I posted yesterday, New Gods # 11 (1972) pg. 17, to discuss Kirby story & art as visual/textual literature. I already showed you how I felt the page worked in terms of its main visual components, now I'll take closer look at the text. Usually I don't use ALL CAPS because that gives the illusion that you are YELLING, but in this case the characters actually are, and that is how most comics text appears because it easy to read and visually dramatic.
Panel 1: Kalibak: "POWER! POWER! THIS AND MORE! — GIVEN KALIBAK BY AN ALLY! — EVEN AS WE BATTLE!" Sound effect: WHAM!
Panel 2: Kalibak: "SEE HOW YOUR BONES WITHSTAND THAT, ORION! HAHAHAH!" Sound effect: BAM!
Panel 3: Caption: ORION IS STRUCK BY A SHOCK-BOLT SO DEVASTATING THAT IT SHAKES HIM INTO IMMOBILITY!
Kalibak: YOU SURVIVED THAT, BUT NOT TOO WELL! PERHAPS AN ADDED TAP WILL DO THE JOB!
Orion: "IT WON'T HELP YOU, KALIBAK! I'LL — I'LL —"
Panel 4: Kalibak: "YOU'LL DO WHAT!? YOU'RE DONE FOR, NEW GENESIS DOG! Sound effect: WHAP!
Panel 5: "YOU'LL NEVER RISE AGAIN WHEN I BURY YOU UNDER TONS OF RUBBLE!"
Sound effect: KARAACK
(end of page)
We can see from this page a few eccentricities of Jack's prose style: Jack uses a lot of exclamation points, and multiple dashes to make his text look visually dynamic; he has his characters laugh maniacally at times (hahahah!), and many times they stutter and stammer when in trouble (I'll— I'll—); plus like much action/adventure comic book text, frequently the captions and characters state the obvious, and as in a real fight, the shouting of the combatants tends to be far from profound.
Looking at this text without the artwork, I'd think many but the most ardent Kirby fan would agree the prose is not going to be considered a great example of literature divorced from the images. But in my opinion, that's the nature of Category # 1 (action/adventure comics) action scenes. I suppose maybe you could hire a comedy writer to punch up the captions and make them hilarious, or have the characters saying something extraordinary and erudite, but that might detract from the main impetus of the page — which is to show all-out action, while giving you just enough text to linger on the page for a moment so you don't finish the comic book in 1 minute.
Personally, I enjoy reading Jack's text because of the context: his prose is classic comic book scripting; Jack had a limited time to write the captions and dialogue since he had to produce 3 entire 20 page comic books a month, plus covers, so he had maybe half-a-day to add text to his story. I, for one, am amazed at the quality of his output, plus when Jack edits/writes/draws a book, it's his total vision, an example of Kirby as auteur.
In prose fiction, an author might spend a year writing a book, and over 10,000 words or more describing a single action sequence; in a film, the director can use camera movement, angle, sound, cutting, music, to tell you the sorry, at times blowing the audience away with multi-million dollar special effects on a single shot; here, in about 3 hours, Jack used a pencil and a piece of artboard to create a dynamic work of art with a maximum of visual impact and a minimum of text designed to highlight the simplicity and power of a one-on-one fistfight. In that sense, I think this piece succeeds as a slice of comic book literature.
Because of emerging technologies like the internet and handheld visual communication devices, we might be able to learn a lot by studying how masters of sequential art successfully convey information to their readers. We may be able to use some of these techniques perfected by comics artists like Jack Kirby if we want to write & draw our own comics, or if we want to efficiently use text & images to communicate concepts to our viewers in the evolving digital age.
Will Jack Kirby comic books be studied by scholars and students of the future? Right now there already are some programs at schools like the University of Florida who sponsors ImageTexT, a web-based journal designed to advance the academic study of comic books, comic strips, and animated cartoons. And there are publications like the Comics Journal and online comic book databases and research sites such as comicsresearch.org building up a body of literature on the literature of comics.
Right now comics scholarship is still a relatively new field, and it may prove difficult to convince University administrators that studying comic books should be an important element of the curriculum, but because Jack Kirby is responsible for creating some of the most successful intellectual properties in history, I think that future generations will study his work.
Before I wrap up this post, I do want to quickly give you an example of what many consider some of Kirby's best visual/textual storytelling, from New Gods # 7 (1972). This entire book is exceptional, but I will only show you a few quick examples so you can see how Kirby uses stunning images and straightforward prose to produce epic comic book storytelling.
Page 1.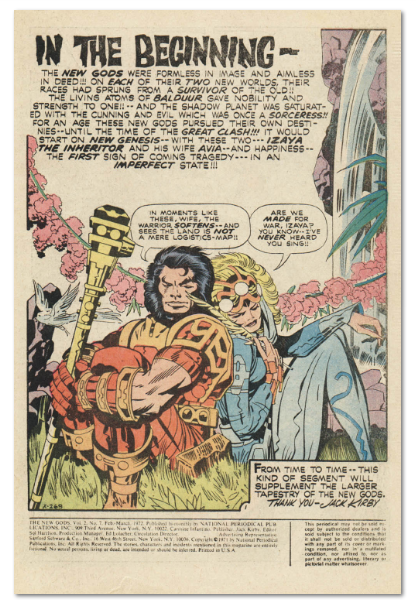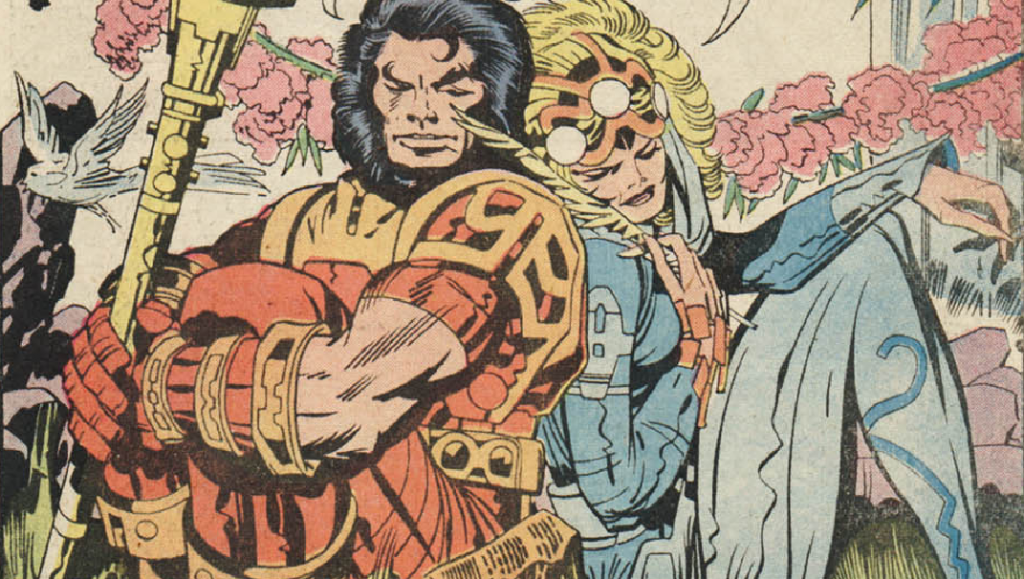 Page 4, panel 2.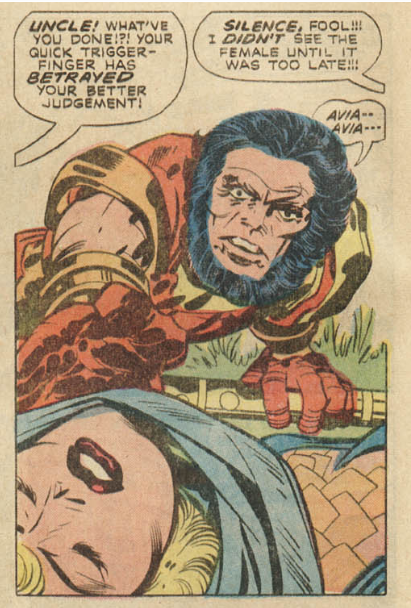 Page 5, panel 1.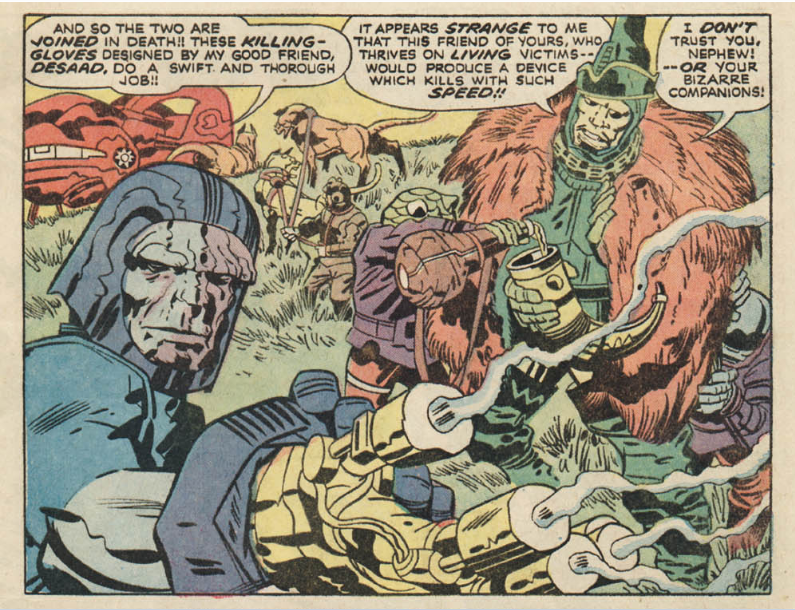 Pages 6 – 7.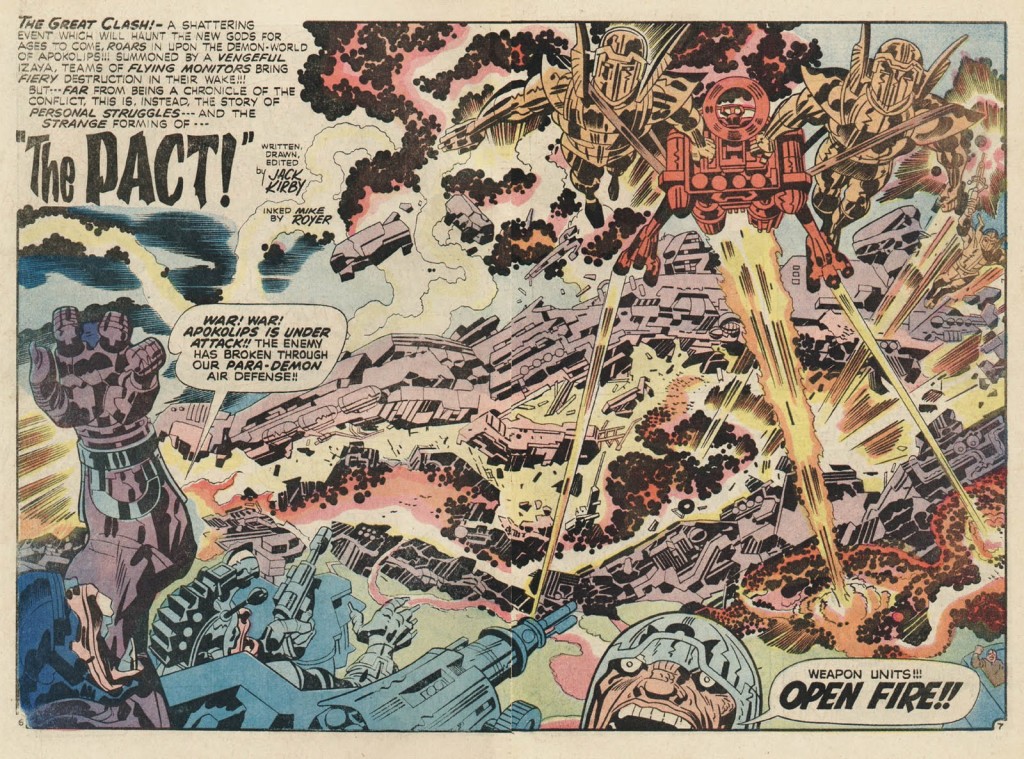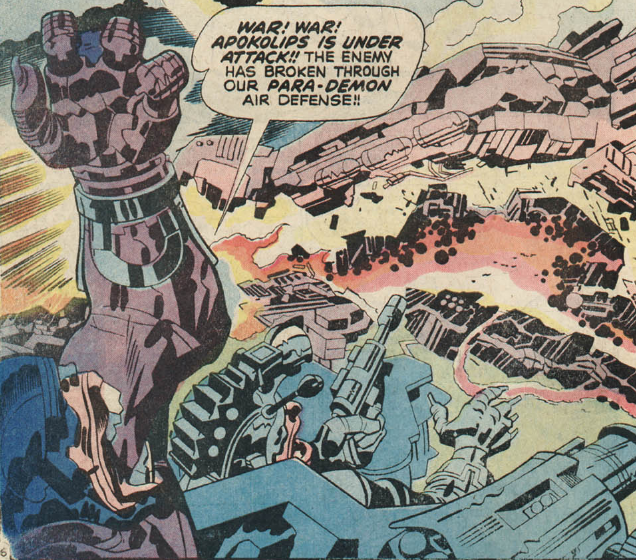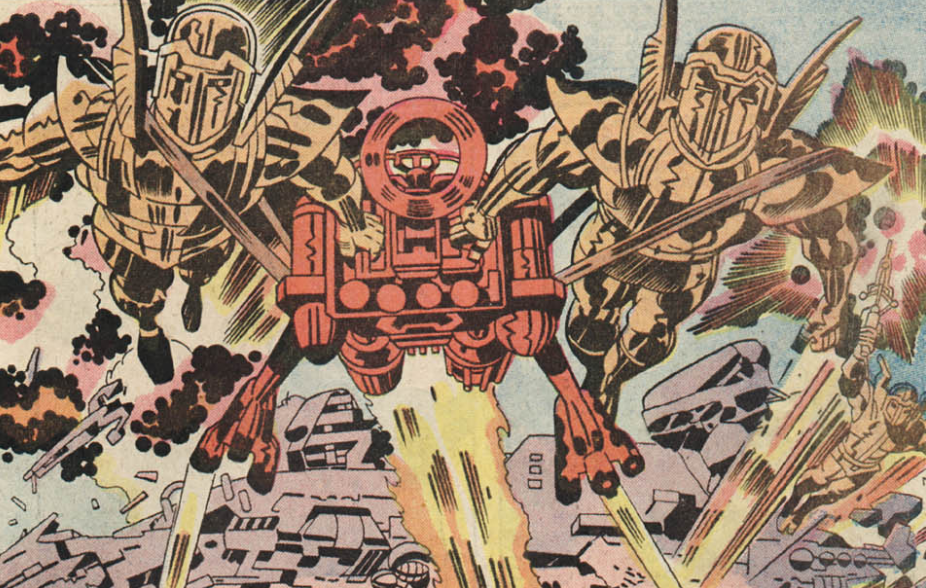 Page 13, panel 1.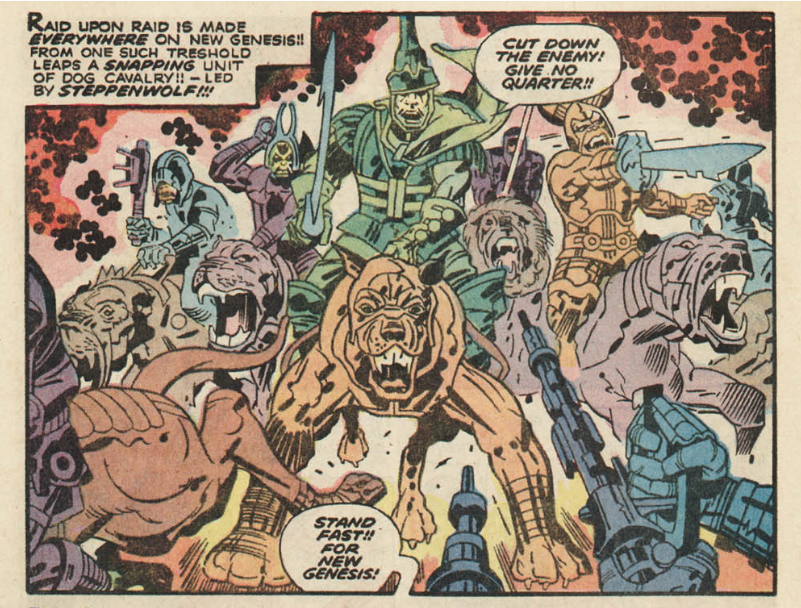 Page 14.
Kirby Historian Stan Taylor had this to say about the literary merits of Kirby's work:
"Comic writing is a collection of skills, from the drawing to the dialogue and the text exposition. Very rarely is anyone good at all facets. Obviously Kirby excelled in the art department, the breakdown and pacing of the story and the powerful presentation. Kirby also excelled at the exposition aspect. His opening introductions and his narrative fill-ins were excellent — provocative, intriguing, powerful, poetic and most of all thematically concise."
"From The Pact: In the beginning (a great Biblical allusion) The New Gods were formless in image and aimless in deed (continuing the Biblical allusion) On each of their two new worlds their races had sprung from a survivor of the old! The living atoms of Balduur gave nobility and strength to one (nice mythological continuity and description in just a few words) and the shadow planet was saturated with the cunning and evil which was once a sorceress!! (fairly evocative- would have preferred he named the sorceress) For an age these new Gods pursued their own destinies — until the time of the great clash!! It would start on New genesis with these two Izaya the inheritor and his wife Avia and happiness the first sign of the coming tragedy in an imperfect state!!!"
"Just an excellent introduction and back-history in just a few sentences. Full of detail and portent. Dramatic yet not over the top."