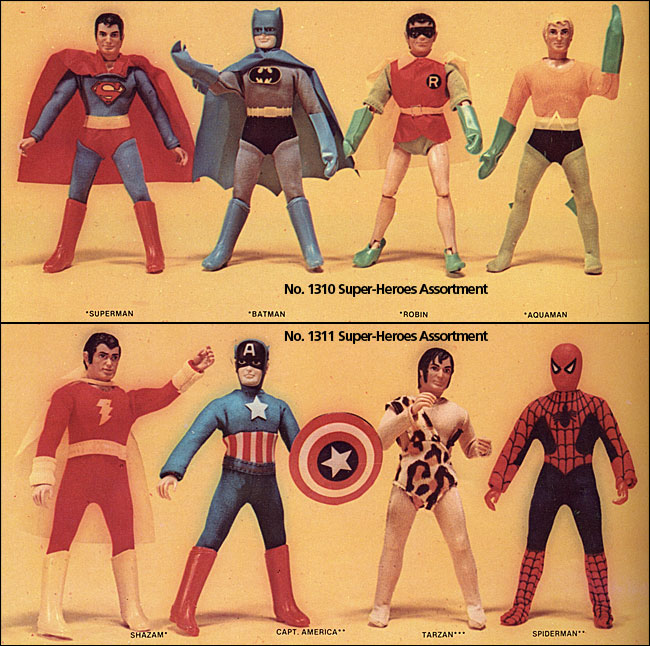 Here's a short excerpt from the Jack Kirby biography Stan Taylor is working on.
In 1972, a small toy company leased the rights from both DC and Marvel to create a new line of action figures. Mego Corp. was a little known company that had offered an 8 inch fully pose-able doll named Action Jackson.

The toy made no ripple in the market, but Mego was convinced by a merchandiser that the body cast could be used on a new line of super-heroes. They paid $50,000 for the rights to 4 DC comic characters and released them at Christmas 1972 to much acclaim. Batman, Superman, and Robin were a whopping success. Aquaman not so much so. Aquaman was always a lower-tiered character. Oddly as seen through a merchandiser's eyes, Aquaman made no sense. He had no spotlight series to make for a tie-in. It would have made more sense to use a character that the company was actively trying to increase customer interest. I think it made more business sense, and common sense that instead of Aquaman, a character such as Orion or Miracle Man made more sense and would have captured the buying public's fancy and helped promote their new books. Mego quickly acquired the rights to several Marvel characters. Spider-Man and Captain America appeared in 1973 using Jack Kirby art on the advertising.


The next couple years would see the addition of more old DC and Marvel characters such as Hulk, Iron Man, Thor, and the Fantastic Four-many using Kirby's artwork on their packaging.

They even came out with a series of villains for most of the characters. Penguin, and Joker make sense, but can one imagine a Darkseid! I shudder at the missed chances. Even for the Marvel characters we see a dumb looking Lizard, rather than a frightening Red Skull, or Dr. Doom; we see a Falcon rather than Black Panther. The choices just make no sense to me. Shouldn't Thor have an Ulik, or Magog, even a Loki? Imagine a 12″ Galactus! This series, titled World's Greatest Super–Heroes became a marketing miracle that catapulted the company to the height of toy companies. The quality of the sculpting and the costuming was top rate and the packaging was colorful and eye-catching. They added to their line with a series of banks, and play sets, and accessories. The action figure became a staple of the toy industry. Despite the great fees, the artists never saw a penny. It seems sad that DC did anything to push Kirby's new concepts, while Marvel kept regurgitating unaccredited, Kirby's old characters and art. An Orion or Darkseid among the Mego figures would have been staggering. I think both DC and Marvel missed the boat with some of the choices.